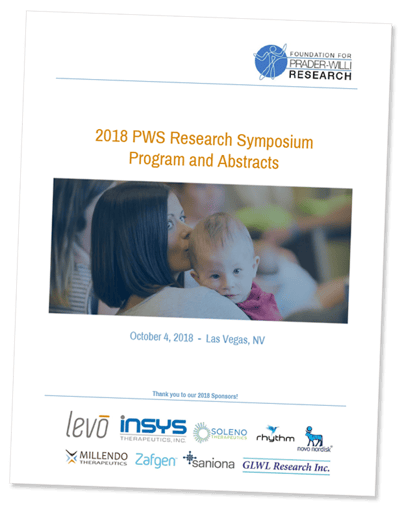 More than 150 scientists, clinicians, industry representatives and community members attended FPWR's 2018 Research Symposium, making it one of the largest collaborative Prader-Willi syndrome (PWS) research meetings held to date. The single day program included 26 oral presentations and 22 posters representing all areas of science from discovery to preclinical and clinical research.
"The quality of science shared at this year's meeting was remarkable. PWS research encompasses a wide range of disciplines and the research presented at the Symposium reached across the spectrum, advancing topics that are important to the PWS community," said FPWR Director of Research Programs Theresa Strong, Ph.D.
Among the research presented were eleven updates from industry on the progress of both PWS preclinical studies and PWS clinical trials. Presentations from academic scientists included new cellular and animal models, insights into disrupted cellular pathways in PWS and Schaaf-Yang syndrome, and investigation of gene expression changes in PWS. Clinical insights included studies on growth hormone effects and causes of death in PWS, while behavioral presentations examined early cognitive ability in children with PWS, resistance to change and insights into onset of mental illness.
Among the most important aspects of the meeting was the opportunity for academic scientists, families, clinicians and pharmaceutical industry scientists to network and build collaborations. In addition, several young trainees (graduate students and postdoctoral fellows) had the opportunity to present their work and expand their understanding of PWS.
Presentations are listed below and all 48 abstracts from the Research Symposium are available for download now!
Mark your calendars and join us for FPWR's 2019 Research Symposium, October 3-4, 2019 at the Double Tree in New Orleans! Registration will open spring 2019.
2018 Research Symposium Oral Presentations
Predictors of psychosis in PWS. Carrie Bearden, PhD, University of California, Los Angeles
Families of individuals with Prader-Willi syndrome: A transactional model. Elisabeth Dykens, PhD, Vanderbilt University
Does the mechanism of action of intranasal oxytocin in the neonate start in the periphery? Elizabeth Hammock, PhD, Florida State University
Characterizing endosomal recycling pathways in primary neurons derived from dental pulp stem cells in individuals with PWS. Helen Chen, PhD, St. Jude Children's Research Hospital
Decreased mortality associated with growth hormone use and lower BMI in PWS. Virginia Kimonis, MD, University of California, Irvine
Preclinical pharmacology and safety of a novel MetAP2 inhibitor for Prader-Willi syndrome. Micaella Fagan, PhD, Zafgen
Early findings from neurobehavioral and neurophysiological studies of a novel Magel2 knockout rat model. Derek Reznik, Baylor College of Medicine
Schaaf MAGEL2 knockdown and SHFYNG patient cell lines exhibit alterations in mTOR and autophagy pathways. Emeline Crutcher, Baylor College of Medicine
Histamine-3 inverse agonist Pitolisant: May it constitute a new therapeutic approach for Prader-Willi syndrome? Marta Pace, PhD, Istituto Italiano di Tecnologia
Polymorphisms in the oxytocin receptor (OXTR) modulate response to intranasal oxytocin therapy in individuals with Prader-Willi syndrome. Frederick Kweh, PhD, University of Florida
Development of intranasal carbetocin for the treatment of Prader-Willi syndrome. Davis Ryman, MD, Levo Therapeutics
DCCR-mediated agonization of the ATP-sensitive potassium channel: A proposed mechanism of action to treat hyperphagia in PWS patients. Neil Cowen, PhD, Soleno Therapeutics
The efficacy and safety of tesofensine/metoprolol co-administration in adult patients with Prader-Willi syndrome: an exploratory phase 2a study. Roman Dvorac, PhD, Saniona
SNORD116 missing in Prader-Willi syndrome regulates mRNA stability of immediate early genes. Stefan Stamm, PhD, University of Kentucky
Consequences of targeted SNORD116 deletion in human and mouse neurons. Giles Yeo, PhD, University of Cambridge
Significant differences for gene expression distinguishes PWS subtypes and reveals transcripts associated with ASD risk in UPD cases. Lawrence Reiter, PhD, University of Tennessee Health Science Center
Physiological excitation/inhibition imbalance in Magel2-deficient mice and oxytocin system. Francoise Musçatelli, PhD, Institut de Neurobiologie de la Méditerranée (INMED)
Evidence of neuroinflammation in the Magel2-null hypothalamus. Deborah Kurrasch, PhD, University of Calgary
Exploring impulsive behavior in a mouse model for PWS. Anthony Isles, PhD, Cardiff University
Social cognitive ability in preschoolers with PWS and preliminary response to remote parent-training using the PRETEND program. Anastasia Dimitropoulos, PhD, Case Western Reserve University
Collaborating with stakeholders in PWS on the development of a "flexible scheduling" early intervention approach designed to prevent the development of disabling resistance to change. Siobhan Blackwell, MPsychSc, University of Birmingham
Vagus nerve stimulation for the treatment of temper outbursts in people with Prader-Willi syndrome. Jessica Beresford-Webb, MS, University of Cambridge
Reproductive function in PWS: Evaluation of the HPG axis using GnRH stimulation testing. Virginia Kimonis, MD, University of California, Irvine
Cellular and molecular basis of insulin-secretion deficiency in Prader-Willi syndrome. Robert Nicholls, PhD, UPMC Children's Hospital of Pittsburgh
MAGEL2, a gene implicated in Prader-Willi syndrome, modulates key circadian rhythm proteins at the cellular level. Vanessa Carias, University of Alberta, Edmonton
CRISPR engineering and molecular profiling of PWS cellular models. Derek Tai, PhD and Xander Nuttle, PhD, Harvard University
2018 Research Symposium Poster Presentations
Caregiver priorities for endpoints to evaluate treatments for Prader-Willi syndrome: A best-worst scaling. Jui-Hua Tsai, MD, Johns Hopkins
Treating Prader-Willi syndrome: analysis of medications, treatments, and supplements taken by PWS patients. Leah Pachkowski, Soleno Therapeutics
A caregiver "Prader-Willi syndrome medication input" questionnaire. Nikita Srivastava, Soleno Therapeutics
Design of the PATH for PWS study: A non-interventional, observational, natural history study of serious medical events in Prader-Willi syndrome. Jaret Malloy, PhD, Zafgen
The novel MetAP2 inhibitor, ZGN-1258, reduces body weight and food intake in mouse models of obesity. Micaella Fagan, PhD, Zafgen
The novel MetAP2 inhibitor, ZGN-1258, increases locomotor activity and reduces anxiety-like behavior in mouse models of obesity and anxiety disorders. Micaella Fagan, PhD, Zafgen
ZGN-1258: A novel potent MetAP2 inhibitor with reduced risk of coagulopathy. Micaella Fagan, PhD, Zafgen
Growth hormone unmasked laryngomalacia and worsened obstructive sleep apnea in infants with Prader-Willi syndrome. Parisa Salehi, MD, Seattle Children's Hospital
Pediatric weight management in patients with Prader-Willi syndrome: Pilot initiative of intensive weight management clinic intervention coupled with behavioral program. Alaina P. Vidmar, MD, Children's Hospital Los Angeles
Dysmorphology features in Prader-Willi syndrome is influenced by molecular class and growth hormone. Virginia Kimonis, MD, University of California, Irvine
Cognitive improvements in children with Prader-Willi syndrome following pitolisant treatment. Lara Pullen, PhD, The Chion Foundation
Effect of macronutrient composition on diet-induced thermogenesis in Prader-Willi syndrome (PWS): preliminary findings. Maha Alsaif, University of Alberta
Profiling the gut microbiome composition and function in North-American children with and without Prader-Willi syndrome. Shima Afhami, University of Alberta
Prader-Willi syndrome mental health research strategy workshop: Update on the top 10 recommendations. Lauren Schwartz, PhD, Foundation for Prader-Willi Research
Guanfacine extended release for the reduction of aggression and self injurious behavior in Prader-Willi syndrome - A case series. Deepan Singh, MD, NYU Winthrop Hospital
Titration to target dose improves safety profile of diazoxide choline controlled-release tablet (DCCR). Jennifer Abuzzahab, MD, Soleno Therapeutics
A neutralizing monoclonal antibody to gastric inhibitory polypeptide (GIP) prevents and treats obesity in normal and ob/ob mice. Michael Wolfe, MD, Case Western Reserve University
A study on maternal attachment, sleep and lipid metabolism in a mouse model of Prader-Willi syndrome. Hanako Tsushima, PhD, Istituto Italiano di Tecnologia
Study of melanin concentrating hormone and orexin/hypocretin neurons in Prader-Willi syndrome. Marta Pace, PhD, Istituto Italiano di Tecnologia
Reactivation of Prader-Willi syndrome genes by epigenetic editing. Yuna Kim, PhD, Duke University
Elucidating the function of MAGEL2 through its protein-protein interaction network defined by proximity labeling (BioID) and mass spectrometry. Matthea Sanderson, University of Alberta
Caralluma fimbriata extract appetite suppression involves 5-HT2c receptor signaling in the Prader-Willi syndrome, Snord116 deletion mouse model. Joanne Griggs, PhD, Victoria University, Australia