The Harvesting Hope Distance Challenge is back, and it's your chance to join a heartwarming community, get moving, and make a real difference. Whether you're a seasoned walker, a jogging enthusiast, or someone who just loves the idea of taking positive steps, this challenge is for everyone!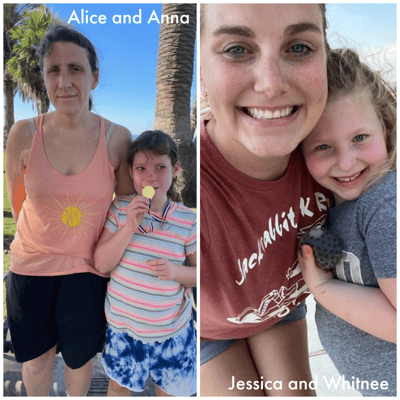 We recently spoke to two Harvesting Hope mother-daughter duos about why they love participating in the yearly challenge.
Alice Shapley, mom to Anna, has participated in the Harvesting Hope Distance Challenge since it launched.
"For the past few years, my daughter Anna and I have been running together, raising funds and awareness for the Foundation for Prader-Willi Research. There are so many wonderful aspects of this effort for us: lots of mother-daughter bonding time; fantastic exercise; a sense that we're making a difference for Annie's future—and that of all kids who have PWS—with the funds we're raising; and a huge sense of accomplishment for Anna. I'm filled with wonder and pride to see my beautiful, strong, and fit daughter run a 5K distance without stopping, which she's done several times by now. This is the same daughter who was diagnosed as a 7-week-old infant with PWS and didn't take her first steps until she was 19 months old. She amazes and inspires me."
"Running the 5k was extremely fun because it helped me understand how exercise is important," Anna shared.
Jessica Mitchell, mom to Whitnee, shared similar sentiments.
"We participate for two reasons. One, it's a great motivation to get moving. Whitnee loves seeing her name on leaderboards! Two, to spread awareness and fundraise. We love to fundraise when there's a matching donor too, because it feels like we're contributing twice as much and making a lot of progress."
These athletes are just two shining examples of why the Harvesting Hope Distance Challenge is a game-changer. Here's why you should join the flock:
1. Motivation to Get Moving
Whether you're aiming for the leaderboard or simply seeking an excuse to step outside, the Harvesting Hope Distance Challenge provides the perfect motivation to get active. The challenge also shifts focus from a food-centric holiday to getting active and making a positive impact. Win-win!
2. Advocate Through Fundraising
By participating, you raise awareness for Prader-Willi Syndrome (PWS) and Schaaf-Yang Syndrome (SYS), and contribute to fundraising efforts that support research.
3. Double the Impact
All donations made to this campaign will be matched, doubling the impact of your generosity. That's right—you give, and it feels like you're giving twice as much, accelerating progress towards a brighter future.
4. Join an Encouraging Community
The Harvesting Hope community is like no other. You'll be surrounded by like-minded individuals who share your passion for making a difference. Together, we're not just trotting; we're making strides toward the development of new medications and therapies that will help our loved ones live life FULL. There are some surprises in store for participants, too, including motivation mail and a Grateful Box for those who raise more than $300!
Can't get enough of Harvesting Hope? Join our community in the Fitness Challenge Facebook Group to connect with other participants, share your progress and advocate for PWS | SYS research!