Gillian Segall is an 18-year-old high school senior from Chicago, IL who happens to have PWS. We asked Gillian to tell us a bit about her life as a high school senior and her plans for afterward.
Graduating from high school is something that many kids and their parents take for granted. But I'm a kid with Prader-Willi Syndrome so my journey has been full of ups and downs. The "ups" have been amazing: I will be graduating in May, made my high school honor society, was named a "True Giant" for making my school a better place, and also qualified for state Special Olympics in swimming. But the "downs" have made it really hard to get here.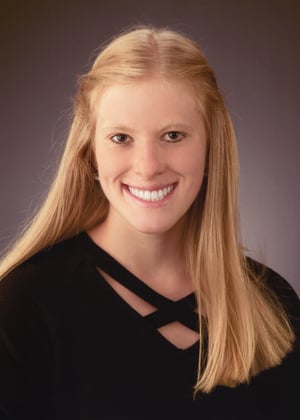 One of my biggest challenges was learning how to survive in a high school where food is all around me. Food is offered in the cafeteria, snack shop and vending machines all day, plus kids can eat in any class they want. Being surrounded by food all the time makes it hard to focus and learn. Another one of my big challenges was learning how to control my emotions when things don't go my way. I have received detentions for ignoring teachers, been in trouble for stealing food and lost my temper when my OCD got the better of me. And then there is the challenge of making and keeping friends. Most high school students hang out independently, but I can't because most social activities have food all around. Also some of my behaviors make it so other kids don't want to become close with me.
Thank goodness I have had a team to help me that is even stronger than all the challenges I have faced. My team is a combination of my guidance counselor, classroom aid, extracurricular aid, case manager, social worker and parents. They help me navigate my school work, social situations and all the complicated food situations. For example, they find a safe place for me to eat lunch and they work hard to reduce food temptations during the day. My team has been incredible and I'm really going to miss them when I graduate.
So what will I be doing after I graduate? My plan for next year is to do a transition program to help get me ready for college and the working world. As part of this program, I will go to a nearby college one day a week to get the experience of being on a college campus. I will spend each morning at the transition program and then every afternoon I'll be working at one or two different places for an internship with a job coach. My hope is that one of these internships will be working with animals because that is what I'd like to do in the future. I know it will take a lot more work and preparation to get there but I'm up for it. The success I've had in high school makes me hopeful that it will happen!
Would you like to hear more from Gillian? She will be speaking at the 2019 FPWR Family Conference! Join us October 3-4 in New Orleans!