Rare genetic disorders can often be challenging to diagnose, resulting in a long diagnostic odyssey. New research aims to shorten the time it takes to get a diagnosis by utilizing artificial intelligence to analyze facial features.
Photos of individuals with rare genetic syndromes are being used to train artificial intelligence to recognize features in the face and reliably calculate similarities to individuals with a confirmed diagnosis.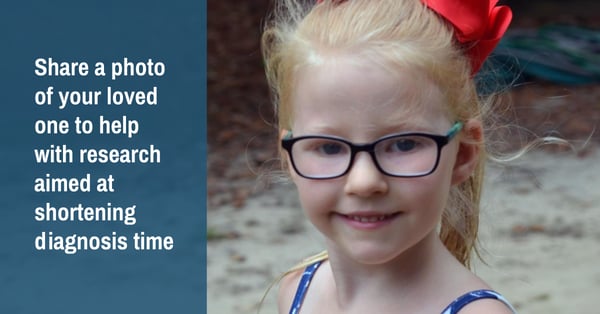 Photos are being collected to help improve this system to identify people with PWS and SYS.
Modern computer-aided image analysis methods can learn to recognize features in the face and reliably calculate similarities to individuals with an already confirmed diagnosis. Like a doctor, the computer system must first learn the characteristics of the diseases in order to recognize them. Using the GestaltMatcher algorithm, an artificial intelligence (AI) has been developed that can not only recognize diseases it has already learned but also diseases it is not previously trained to recognize. It also requires significantly fewer patient images than comparable systems to make the correct diagnosis. Such computational methods can provide medical professionals with a clue to a genetic disorder and assist in selecting a particular molecular test. In addition, AI can also be used to interpret the results of molecular genetic testing.
Using AI technology, Dr. Christian Schaaf, Dr. Marbach, and colleagues have launched a scientific project at the Institute of Human Genetics (University of Heidelberg) to study to what extent the genetic and phenotypic relationship between Schaaf-Yang syndrome (SYS), Hao-Fountain syndrome (HAFOUS), and Prader Willi syndrome (PWS) is reflected in the facial phenotype ('gestalt'). In this project, they will calculate the facial similarity of the 3 "genetically related" entities to each other, and in comparison to other unrelated disease entities.
The GestaltMatcher database (GMDB) currently contains more than 6500 portrait photos which it uses to potentially match undiagnosed patients with a diagnosis. The database, which is only accessible to a selected scientific community, mostly consists of photographs from scientific publications.
By contributing a photo of your loved one with PWS or SYS, you will help expand the database to improve the performance of the artificial intelligence.
If you would like to contribute a photo and support this work, please email Pilar Cara MariadelPilar.CaroMartin@med.uni-heidelberg.de who can guide you through the process and answer any questions you may have.