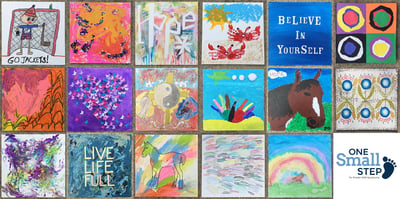 4/17/2017 — Note: Bidding closed yesterday, but you can still see these beautiful pieces of art on Facebook!
Twenty unique paintings are available to the highest bidders in a unique art auction benefiting the Foundation for Prader-Willi Research (FPWR). Each piece of art, beautifully painted on a 12×12 canvas, was created specifically for this art show by individuals with Prader-Willi syndrome (PWS).
The quality of art submitted for the auction is remarkable. You simply can't find pieces as beautiful and unique as these, and 100% of proceeds will benefit much needed PWS research. It's a win-win.
The hosts of the art auction, Amber and Jason Rector, began this annual fundraiser last year after a friend commented on how much she adored the Rector children's artwork and asked jokingly if it was for sale. The Rectors ran with the idea and created the auction to celebrate the creativity of our community and raise additional funds for PWS research. The auction is a 'wrap-around' event for their annual One SMALL Step walk in Columbus, Ohio and last year raised nearly $2,000! This year they hope to double their success.
When asked why she chose to submit a piece of art for the auction, Nicolle Palen, age 29, said, "I'm excited for the opportunity to use my gift of creativity, to make an impact in this unique way. Not only is it a great chance to raise money and awareness, for FPWR, I also like that it focuses on abilities, rather than limitations, which exemplifies the positivity and sense of community of the organization as a whole."
Each piece of art has been set up for auction on the One SMALL Step, Columbus Facebook page. Bids can be made in $1 increments by commenting with your bid amount on the photo of your preferred artwork. Bidding ends Sunday, April 16th, at 5pm EST.