Harmony Biosciences recently announced changes to their Phase 2 Clinical Trial of Pitolisant that reduce the requirements of participating in the study.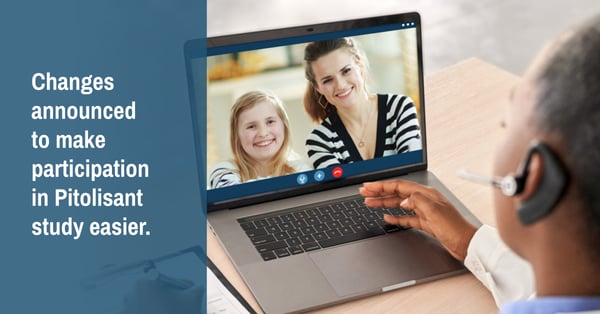 Three important changes have been made to the trial to make participation easier:
No overnight or daytime sleep studies are needed

A remote screening visit may be allowed

More flexibility of remote visits during both the Double-Blind study and the optional Open-Label extension phase
In addition to evaluating the safety of Pitolisant and its effectiveness in treating excessive daytime sleepiness, the trial will measure how Pitolisant affects learning, attention, memory, and hunger.
Sixty volunteers, ages 6-65 with PWS, are needed for the study. Volunteers will be randomly split into three groups: 1 group will be on a low dose, 1 group will be on a high dose, and 1 group will receive a placebo for the duration of the study. At the conclusion of the study, all participants have the option of continuing in the Open-Label extension and receiving Pitolisant.
Participation in the trial lasts approximately 4 months and includes 5 visits (2 of which may be completed in your home).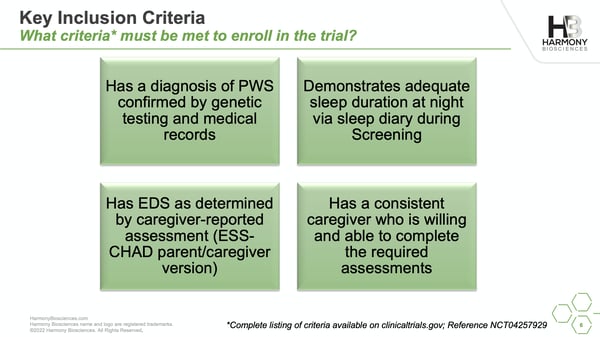 Harmony recently presented information about the trial in this short 30-minute webinar:
Individuals interested in participating in the study are encouraged to contact one of the 15 sites located in the US. Click here and scroll mid-way down the page for contact information for each site.
Learn more about PWS Clinical Trials.