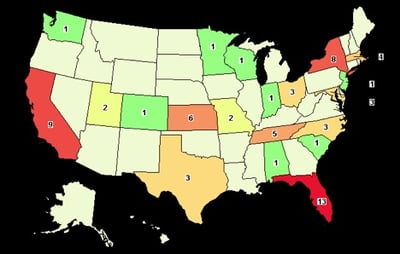 The number of clinical trials for PWS continues to increase at a rapid pace. In 2017, clinicaltrials.gov listed 13 PWS clinical trials, compared with only two trials 10 years ago. With the increase in PWS clinical trials, our community is presented with a challenge we have never faced before: potential delays in trial completion due to patient enrollment. A small patient population coupled with a limited number of PWS clinical trial sites (see map below) increases the risk of inadequate recruitment and delay in the conduct of these trials. In response to these issues, FPWR is assessing the feasibility of building a database of PWS clinical care centers and providers in the U.S and Canada.
The map above, from clinicaltrials.gov, shows the geographical locations of PWS clinical trials in the U.S. in the last 10 years. As shown, only 20 of 50 US states are currently involved in conducting PWS clinical trials. The limited number of geographic locations could have a significant impact on enrollment because not all patients may have access to these sites. It could also lead to poor socio-economic and ethnic representation in trials. Therefore, there is a need to identify more PWS clinical care centers across all geographic areas of the U.S. and Canada, to increase the patient base and ensure that patients everywhere have an opportunity to participate in trials.
Benefits Of a Clinical Trial Network For Prader-Willi Syndrome
Building an extensive network of PWS clinical care centers that are interested in conducting clinical trials can help address some of the problems mentioned above. A clinical trial network for Prader-Willi syndrome can help advance trials by providing a common platform through which drug companies and research centers can quickly find the patient population and site capabilities they need. This network would also benefit clinicians/investigators by providing access to standardized protocols and documents, training, and improving trial efficiency. By including smaller sites across a wider geographical range, aclinical trial network would make it easier for the PWS patient population to find and enroll in clinical studies, while also providing access all the information they may need.
For the PWS patient community, the benefits of a clinical trial network for Prader-Willi syndrome would include:
Increased access to clinical trials
Ability for patients and caregivers to be involved at an early stage of drug development, such as protocol design
Access to centralized study documents and literature
There are excellent examples of other rare disease organizations that have built successful clinical trial networks, such as the Cystic Fibrosis Therapeutic Development Network, the Northeast ALS network, and the TREAT-NMD neuromuscular network. For example, the Cystic Fibrosis Therapeutic Development Network was founded in 1998 and has since conducted more than 130 clinical studies. This has resulted in several new therapies being made available to patients, with many more in the pipeline.
You Can Help
FPWR is assessing the feasibility of building a database of PWS clinical care centers and providers in the US and Canada. We are seeking to identify as many investigators and centers as possible in every US state to provide maximum geographic coverage. We'd be very grateful if you could help by entering the names and contact information of any PWS physicians you may know using this form or click the button below.

For more information, you may email me or Nathalie Kayadjanian, FPWR's director of translational research.
For updated information on PWS clinical trial opportunities and to sign up for a monthly PWS Clinical Trial Alert, visit our PWS Clinical Trials page.