To ensure that new treatments for PWS are advanced as quickly as possible, FPWR collaborates with academic researchers, pharma companies, and other stakeholders to speed the drug development timeline and get treatments into the hands of patients faster. Our collaborative approach, funded by our dedicated supporters, has achieved many successes, with more on the way. PWS is a complex disorder that manifests in many ways. It's essential to understand how various biological systems are altered in those with PWS, so that effective treatments can be developed. FPWR does this by supporting the work of exceptional academic researchers, such as Dr. Yossi Tam. The insights gained from basic science research in PWS lead directly to new treatment strategies, as illustrated by the outcomes of Dr. Tam's work in the lab.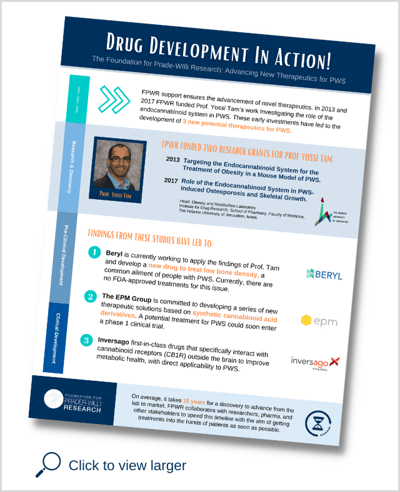 In 2013 and 2017 FPWR funded Prof. Yossi Tam's work investigating the role of the endocannabinoid system in PWS. These early investments, aimed at understanding how this complex cell signaling system is altered in PWS, have now led to the development of 3 new potential drugs to improve the health of people with PWS:
Beryl

is currently working to apply the findings of Prof. Tam

and develop

a

new drug to

treat low bone density

,

a

common ailment of people with PWS. Currently, there are

no FDA-approved treatments for this issue.




The EPM Group

is committed to developing a series of new

therapeutic solutions based on

synthetic cannabinoid acid derivatives

. A potential treatment for PWS could soon enter

a phase 1 clinical trial.



Inversago is developing first-in-class drugs that specifically interact with cannabinoid receptors (CB1R) outside the brain to improve metabolic health,

with direct

applicability to PWS.
FPWR is committed to the further development of these potential treatments for PWS and continues to work closely with each group to help advance their potential therapies for PWS. We look forward to sharing more information as these programs develop and seeing the first clinical trials become available for people with PWS.