Since Soleno's announcement that the FDA will require an additional clinical trial before accepting a New Drug Application for DCCR, FPWR has received a number of questions regarding DCCR, where DCCR is in the approval process, what advocacy looks like, and next steps in advocacy. Below we share answers to these questions and resources to find more information.
What is DCCR?
DCCR (Diazoxide choline controlled-release) is a novel, proprietary extended-release, crystalline salt formulation of diazoxide, which is administered orally, in tablet form, once-daily. The parent molecule, diazoxide, has been used for decades in thousands of patients in a few rare diseases in newborn infants, children and adults, but has not been approved for use in PWS. The DCCR development program is supported by data from five completed Phase I clinical studies in healthy volunteers and three completed Phase II clinical studies, one of which was in PWS patients. In the PWS Phase II study, DCCR showed promise in addressing hyperphagia, the hallmark symptom of PWS, as well as several other symptoms such as aggressive/destructive behaviors, fat mass, and abnormal lipid profiles.
Where is DCCR in the drug approval process?
A Pivotal Phase 3 study of DCCR that included ~125 patients was completed in 2020. While the study did not meet its primary endpoint of improving hyperphagia as measured by the HQCT, significant improvements were noted for several of the secondary endpoints, and in a prespecified subgroup with the most severe hyperphagia. When considering only data from before the COVID-19 pandemic, there was a significant improvement in hyperphagia as measured by HQ-CT. Currently, Soleno is in discussions with FDA to determine the FDA's willingness to review a new drug application (NDA). The FDA has indicated that an additional clinical trial may be necessary before the FDA will accept an NDA for DCCR. Should an additional trial be necessary, it will likely be several years before DCCR will be ready for an FDA review.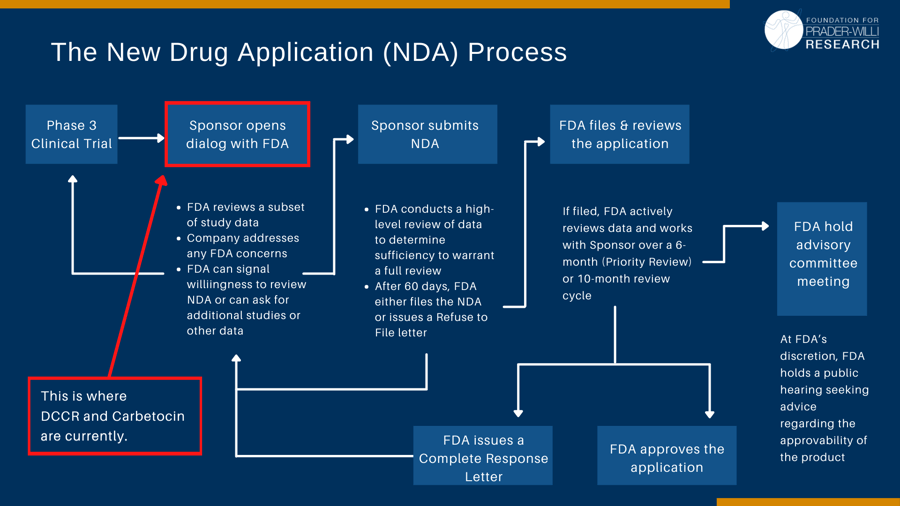 How can I get access to DCCR?
DCCR is a new investigational drug for PWS. It has not yet been approved by the FDA and is not available outside of the clinical trial setting. Currently, the drug sponsor, Soleno, is not enrolling patients into a clinical trial, therefore, unless you are already participating in Soleno's Open Label Extension Study (C602), DCCR is not available.
Will there be future clinical trials for DCCR that I can participate in?
At this time, it is unknown if there will be additional DCCR studies. The FDA has indicated they want Soleno to complete an additional controlled clinical trial before accepting a New Drug Application (NDA). Soleno is in private conversations with the FDA in regard to this matter. We will share any news with the PWS community as it becomes available.
Can the PWS community help fund another DCCR trial?
In 2015, FPWR was able to help support the first Phase 1 study of DCCR in PWS. However, Phase 3 clinical trials typically cost tens of millions of dollars. As a patient community, we would have great difficulty securing the funds necessary to support such a clinical trial on our own. In addition to the funds, we would also need ownership of the drug compound. This is why we rely on clinical trial sponsors (drug companies), who have much greater capacity.
What advocacy efforts have PWSA|USA and FPWR taken to date?
For more than a decade, FPWR has partnered with PWSA|USA and IPWSO and worked diligently to build resources that address the FDA's call for patient experience data, demonstrating high disease burden and the need for effective therapies addressing hyperphagia. This information is essential for the FDA to determine if the benefit of a drug outweighs the risk, in the context of the unmet medical needs of the patient community. We've conducted surveys, established a robust online patient registry, and funded research into patient preferences so that we can effectively advocate for new treatments for PWS and bring the caregiver and patient voice to the FDA. Learn more about how we're advocating for new Prader-Willi syndrome treatments.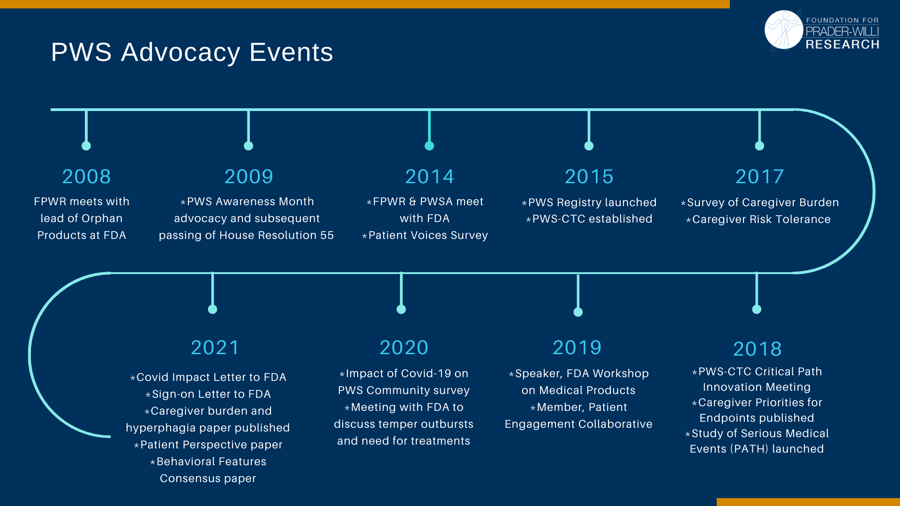 When I donate to FPWR and PWSA|USA's advocacy efforts, what are those funds being used for?
Funds directed to support PWS Advocacy help support the following:
The Global PWS Registry
Development of natural history data to support clinical trials and the review of new drugs
Publication of new resources to support the approval of new drugs for PWS
Establishment of new trial endpoints, such as the HQCT, to improve the measurement of drug efficacy in PWS
Direct communication with drug sponsors and the FDA to express the patient voice
State and local advocacy initiatives
What has been done to date to help in the process of getting DCCR approved?
For more than a decade we have been preparing resources that will help facilitate the review and approval of treatments for PWS.
In response to the FDA's decision requiring Soleno Therapeutics to complete an additional controlled trial for DCCR, a potential treatment for PWS, FPWR and PWSA|USA collected community comments and on April 7th, submitted a comprehensive patient voice submission to the FDA. The submission addresses:
Our community's urgent and dire need for new therapies
Our positive views of the trial data
Our community's preferences for treatment access despite any uncertainty
The real need and potential benefit DCCCR could provide (as evidenced by the thousands of comments submitted through the sign-on survey)
Read our letter to the FDA and download the full community response.
Both FPWR and PWSA|USA are in continuous dialogue with Soleno, and other drug companies, and we will keep the PWS community abreast of any new information.
How can I advocate for PWS? What activities can I take part in?
The #1 activity you can do to help advocate for your loved one is to participate in the Global PWS Registry.
The PWS Global Registry is a powerful tool for the PWS community to advance understanding of PWS, areas of unmet need, standards of care, and new therapies. Data from the registry is shared back to the PWS community, used by researchers and scientists to advance PWS research, and has been the basis of our discussions with the FDA as we help them understand our community's need for treatments.
In our recent community response letter to the FDA, one dozen resources were shared to support the approval of new treatments for PWS. Many of those resources were developed directly from registry data!
We encourage you to enroll in the registry and update your surveys annually. Get started today!