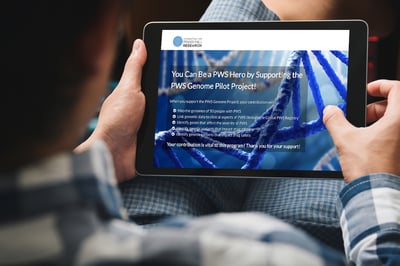 A new pilot project is seeking funding to map the genomes of 50 people with PWS and integrate that information with the Global PWS Registry data.
This first-ever PWS Genome Project seeks to help researchers better understand differences in PWS symptoms and severity from person to person as well as issues of safety and efficacy of treatments in each person.
The PWS Genome Project will be funded with direct support from donors who are passionate about finding effective treatments for PWS.
Using Genomic Technologies in PWS Research
Advances in genomic technologies offer new opportunities to advance understanding of the variability of characteristics (phenotype) in PWS and support a personalized understanding of how well new treatments work. Data from the mapped PWS genomes — will be integrated with data from the Global PWS Registry. By comparing genomic data to phenotypic data, the project will help the PWS researchers understand how genome-wide DNA variants impact PWS characteristics.
Shedding Light on PWS Symptoms and Treatments
The severity of symptoms associated with PWS (for example degree of obesity, occurrence of seizures, onset and severity of hyperphagia, scoliosis, mental illness) varies greatly between individuals. This may be due to variations in the genetic sequence, outside the PWS region on chromosome 15, which may impact severity. Through the project, researchers will identify genetic variants that influence personal risk of symptoms in people with PWS.
The information gained from whole genome sequencing may also be useful in understanding the efficacy and safety of new drugs that are being developed and tested in the PWS population.
Data will be generated to identify:
Genes that modify the PWS phenotype
Genetic variants that impact drug efficacy
Genetic variants that impact drug safety
Supporting and Participating in the PWS Genome Project
The PWS Genome Project will require comprehensive information on PWS-associated symptoms, which has been established in the Global PWS Registry. Participants in the Global PWS Registry who have completed all the registry surveys can help make the PWS Genome Project a success by participating in the PWS Genome Project.
Donors around the world are advancing this exciting work by making donations to crowd-fund the PWS Genome Project.