Did you know that by simply sending a card, you have the power to make a difference in the lives of those affected by Prader-Willi syndrome? It's true! Every time you send a card, you not only spread awareness about this rare genetic syndrome but also contribute to raising funds for research and support. It's an easy and meaningful way to show your care and support for the Prader-Willi community.

Here are a few creative ideas to help you make an impact:
1. Use Minted for your printing needs.
When you choose Minted for your card printing, not only do you save 20% on your order, but Minted also generously donates 15% of the purchase to the Foundation for Prader-Willi Research (FPWR). It's a win-win situation: you get beautiful, customized cards, and FPWR receives vital funds for their important work.
How it works: Use code FUNDRAISEFPWR at checkout when shopping on Minted to save 20% and to have Minted donate 15% to FPWR.
---


2. Customize one of our holiday card templates.
Take advantage of our pre-designed holiday card templates and make them your own. Add your personal touch by including a request for support for FPWR on the card. This simple addition can help raise awareness and encourage others to join the cause.
How it works: Click on one of our ready-to-use templates below. Customize the front design with your photos and text. The back side of the card has a customizable message requesting support for FPWR. Click Print to select your paper quality and quantity! Your design can also be downloaded for free and used as a digital print.
---
3. Include a message about PWS with any mailing.
Whether it's a birthday card, a thank you note, or a special occasion card, consider including a message about Prader-Willi syndrome. You can use our suggested message or customize one that reflects your personal connection and story to help spread awareness and potentially inspire support.
How it works: Click our ready-to-use message card, customize it with your name, and print! Or simply copy and paste our message below and use it in any fashion you like!
Dear Friend,
Our

<son/daughter>

,

<insert name>

, has Prader-Willi syndrome (PWS), a rare genetic syndrome that encompasses a wide range of medical and developmental issues. Most notably, people with PWS never feel full, struggling with constant, insatiable hunger. Most individuals with PWS also struggle with behavior challenges and intellectual disabilities which limit their independence.
Currently, there are no treatments for the most life-limiting challenges of PWS, but we're not just waiting and hoping for new treatments, and a cure, we've joined the Foundation for Prader-Willi Research (FPWR) whose innovative strategy is breaking institutional barriers, creating new synergies and accelerating the discovery and development of new treatments for PWS.
FPWR's work is imperative to the future of our
<son/daughter>

. We've made tremendous progress in research but until treatments are found, we must push forward with urgency, because every person with PWS deserves a FULL and INDEPENDENT life. Should you wish to learn more or make a 100% tax-deductible donation to the Foundation for Prader-Willi Research, please visit www.fpwr.org
With Gratitude and Hope,
<insert name>
---

4. Make it Personal
Share your personal story: In less than 5 minutes, you can customize your own webpage with your message and a photo of your choice! Along with your card, include a link to your personal story where your friends, family, and supporters can learn more about Prader-Willi syndrome and make a donation. Get started today!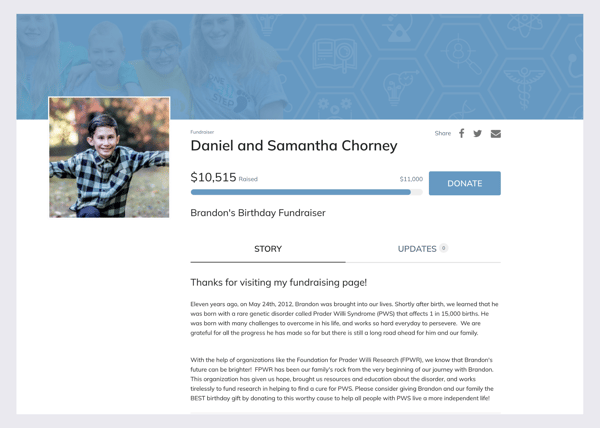 No matter how you choose to share your story and advocate for PWS research, your efforts will make a meaningful impact. Thank you for helping us find treatments for PWS!