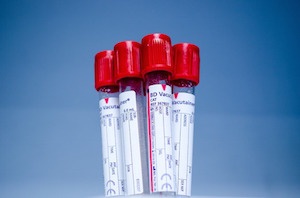 Dr. Maithé Tauber and colleagues recently reported interesting results on the hunger hormone ghrelin. They show that the ratio of active (AG) to inactive (UAG) forms of ghrelin changes over time. They hypothesize that this change may play a role in the switch from failure to thrive to obesity.
The research also shows why therapies directed at manipulating this ratio, such as the drug being developed by Alize (AZP-531), may be particularly relevant for PWS. The paper, "High unacylated ghrelin levels support the concept of anorexia in infants with Prader-Willi syndrome" is published in the Orphanet Journal of Rare Diseases.
FPWR and Prader-Willi France provided support for the collection and analysis of blood from infants and children with PWS, which is key to studies such as this. The funds support a blood bank recruitment coordinator, who collects clinical data on birth, growth, endocrine functions and feeding behavior in newly diagnosed patients with PWS. These samples are a valuable tool in helping understand the biochemical changes that accompany the nutritional phases of PWS, particularly failure to thrive early on, and the later development of hyperphagia.