Hyperphagia is a life-long concern for individuals with PWS and their caregivers. In a recently published study conducted by FPWR and the PWS Clinical Trials Consortium, we found caregiver burden increases as the person with PWS gets older, and as hyperphagia increases. While the findings from this study may not be surprising to PWS families and caregivers, they will be important in our advocacy efforts with pharmaceutical companies and regulatory agencies, like the FDA.
You can read full publication on PLOS ONE: Characteristics and Relationship Between Hyperphagia, Anxiety, Behavioral Challenges and Caregiver Burden in Prader-Willi Syndrome. It will will be added to the library of advocacy resources being used to facilitate the review and approval of new Prader-Willi syndrome treatments.
Overview of Study and Its Uses
A few highlighted findings from the study include:
The burden of caring for a person with PWS increases as the person with PWS gets older.
As hyperphagia increases, the level of caregiver burden increases significantly.
Caregiver burden could provide a new method for measuring drug efficacy in PWS clinical trials.
Documenting the caregiver burden of PWS helps us to understand, and explain, the natural progression of PWS over time. Additionally, understanding how symptoms of PWS such hyperphagia progress without treatment can serve as an important backdrop for treatment studies and clinical trials. Also, studying caregiver burden and the impact of PWS on families helps establish unmet medical needs to funding sources as well as regulatory agencies (e.g., the FDA) and insurance agencies.
In the 4-minute video below, I share some of the details of the study:
The Impact of Caring For a Person With PWS Changes As They Get Older
In the study, we evaluated the negative impact of PWS symptoms and issues that affected caregivers the most. Interestingly, we found that they varied significantly with the age of individuals with PWS. Whereas tasks associated with caring for a child with PWS had the most negative impact on caregivers of infants, the burden of caregivers of children, adolescents, and young adults was associated predominantly with the child's anxiety and behavioral challenges.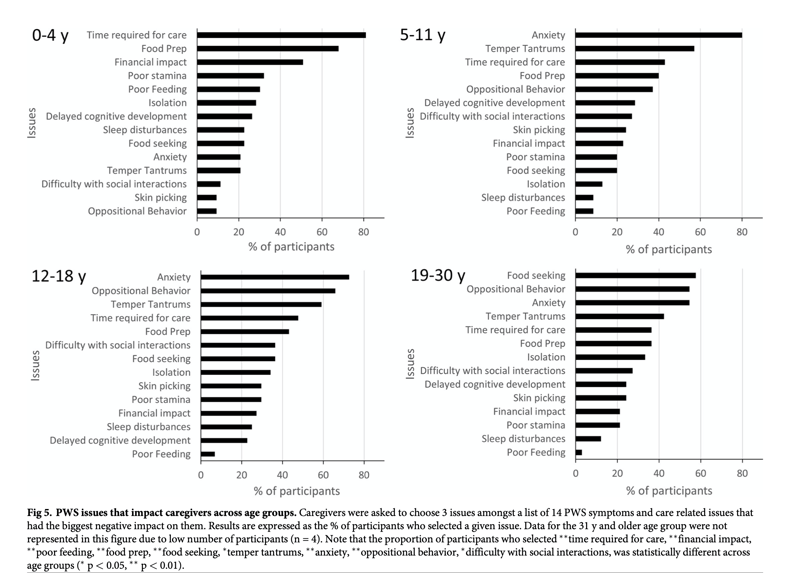 As Hyperphagia Increases, Level of Caregiver Burden Increases Significantly
Hyperphagia scores varied, but in general, they increased as the person with PWS ages. HQ-CT scores were significantly different when comparing infants and young children aged 0–4 years with older individuals with PWS. The majority of infants and young children had low HQ-CT scores. HQ-CT scores were significantly higher in individuals 5 years old and above, and tended to increase with the age of individuals with PWS as food-seeking became more pronounced.
With increasing hyperphagia, caregivers feel more burdened. This is not surprising, but this study is the first to document this in the scientific literature and helps to provide support for using caregiver burden as an outcome measure in future studies on hyperphagia. It also highlights, once again, the unmet medical needs in PWS and the significant impact on caregivers and families.
Caregiver Burden Could Provide a Feasible Endpoint to Measure Clinical Trial Efficacy
Our loved ones with PWS require high levels of ongoing care, which requires sustained effort and often leads to strain and fatigue. Recently, we have heard anecdotes from PWS drug trial participants that the entire family has benefitted from their loved one participating in the drug trial, with family members feeling less stress and anxiety.
Because caregiver burden has been used in clinical trials for other diseases, such as dementia, Alzheimer's, and cancer, we are evaluating the usefulness of including caregiver burden as a meaningful measure of drug efficacy in PWS clinical trials. The stability of a clinical trial measure over time is important, and in this study, we show that the caregiver burden is in fact stable, taking us closer to possibly using caregiver burden as an outcome measure for future treatments for PWS.
The full publication is open-access and available on PLOS ONE. It covers additional results focused on tasks and aspects of caring for a loved one with PWS that have the biggest impact on caregivers.