Hyponatremia is a condition where the sodium (salt) levels in the body are too low. If sodium levels get low enough, the person may become confused, experience a seizure, or even slip into a coma and (rarely) die. A few cases of hyponatremia due to excessive fluid intake have been previously described in PWS. In a recent study, an international group of PWS clinicians pooled their data to determine how often hyponatremia occurs in PWS, and whether there are specific situations in which hyponatremia is a risk.
The full article, Hyponatremia in Children and Adults with Prader–Willi Syndrome: A Survey Involving Seven Countries, is available in the Journal of Clinical Medicine.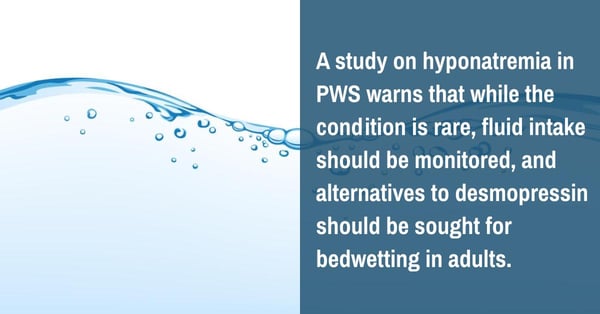 Examining the medical charts of 1326 individuals with PWS (896 adults and 430 children) from seven countries, these researchers found that 34 (2.6%) had at least one episode of mild or moderate hyponatremia. In addition, 7 adults (0.5%) had a severe case of hyponatremia. Five of the adults with severe hyponatremia recovered, but 2 died.
The authors also looked at symptoms and potential causes of hyponatremia. In the mild or moderate cases, all but 1 showed no symptoms (i.e., hyponatremia was only detected because other bloodwork was done). With respect to cause, 33% of the patients took psychiatric medication that may have led to a water imbalance syndrome (an antidiuretic effect with decreased urination), 25% had excessive fluid intake (or, "water intoxication"), 12% had hypoglycemia (which can also cause a water imbalance), and 30% had no detectable cause. In the severe cases, 2 of the 7 individuals likely had hyponatremia due to the use of a medication (desmopressin) to stop nighttime bedwetting. In the other 4 severe cases, there were multiple contributing factors, and in one case, they could find no cause.
Overall, severe hyponatremia seems to be relatively rare in people with PWS (only 0.5% of this population), but mild or moderate hyponatremia is a bit more prevalent (2.6%). Some of the cases had either no known cause or multiple causes, but the two significant causes of hyponatremia were excessive fluid intake and treatment with the medication desmopressin. It is important for people with PWS and their caregivers to be aware of the health hazards of excessive water consumption, and fluid intake should always be monitored. In addition, these PWS researchers recommend against using desmopressin to treat nighttime bedwetting in adults with PWS. If desmopressin is to be used, fluid intake should be closely regulated before and after the drug is given. Alternatively, and preferably, according to the authors, the cause of nighttime bedwetting should be determined for the patient, and alternative approaches to treatment should be tried.