A special contribution by guest blogger Allison Shelton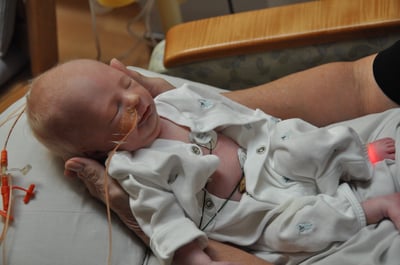 On the occasion of Declan's tenth birthday this past April 14th, I wrote, "It's a decade of Declan!" More completely, it has been a decade of our family living in the world of Prader-Willi syndrome (PWS). How very frightened we were ten years ago when we learned our tiny newborn struggling to feed had this scary-sounding condition called Prader-Willi syndrome. What we initially learned about PWS sounded so negative. Brandon and I had yearned for so long to have a child, and when Declan emerged into a world where he was rushed to the NICU within hours of birth, and challenges with feeding and other concerns mounted, we were overwhelmed with worry and the fear of the unknown. But what we have learned in these ten years is that while it is a serious and complicated disorder, life can be still be beautiful and amazing!
Declan has persevered through so many challenges, and is turning into quite the unique and special guy. Ten years ago, I never could have pictured he would be thriving in school – in a general education classroom – and demonstrating quite the zest for life! Things we didn't know at birth if he would accomplish – as basic as walking and talking, learning to eat without a feeding tube, and on to reading and writing, have all come to pass. Declan loves music, game shows, has made special friendships with his classmates and peers, practices tae kwon do, and loves swimming and playing the piano! But there are still challenges ahead, as we edge ever closer to adulthood. He talks about going to college and getting married, and having a job. Our dearest hope for him is that he will be able to do all of this independently, and will not be stymied by the challenges of PWS.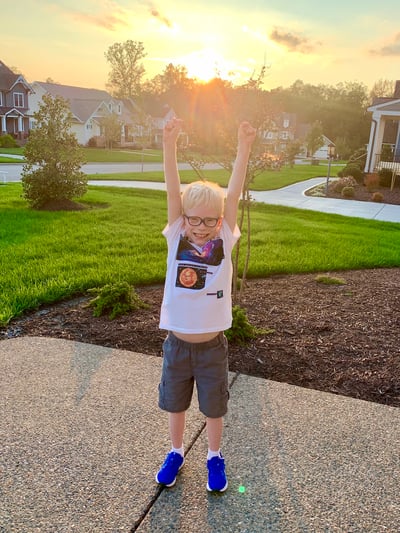 Many parents talk about wanting "time to slow down" as the day approaches for their children to leave the nest and embark on their adult lives. But what if your child couldn't leave the nest? So many people with PWS are unable to live independently as adults due to hyperphagia (insatiable appetite), the hallmark symptom of the disorder. This overdriving urge to overeat is so dangerous that it can lead to morbid obesity. This is why we continue to fundraise for PWS research every year, as our community needs a treatment that will allow Declan and all those with PWS to overcome the challenges of PWS so they can successfully "Live Life Full" on their own.
We first learned about the Foundation for Prader-Willi Research within days of Declan's birth in April 2012. As soon as we heard the words "Prader-Willi syndrome," my mom, Gail Frey, began researching and came across information for a walk in Washington, DC, coming up in early June (we lived in the Virginia suburbs of DC at the time). She was so taken by what she learned reading through FPWR's website and the information for the DC walk, that she said, "Even if it turns out Declan doesn't have PWS, I am going to this walk to support this amazing community and its cause to help people with PWS." Barely a few days later, Declan's PWS diagnosis was confirmed, and my mom led the charge for creating our first fundraising page. Declan – not yet out of the hospital for that first walk – was the top fundraiser that year for the DC walk. I attended that walk with my parents, while Brandon and his parents stayed with Declan at the hospital. Just a few days later, Declan had surgery to place his g-tube, and finally came home.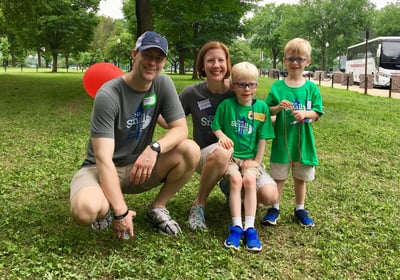 That first walk was hosted by Dominique Deleage, the first fellow PWS parent we met. Meeting Dominique and her family, especially her son Charlie with PWS, gave us such hope for the future. We were still reeling from Declan's diagnosis in so many ways, and meeting a PWS family several years down the road from us was so encouraging. I could start to see a solid path forward, and to realize that it was going to be ok. It might be scary and challenging and difficult, but it could also be happy and successful and special.
Dominique became a close friend, and I became a walk co-host that very next year! Dominique encouraged us to attend our first FPWR Family Conference as well. Again, it seemed as if fate was on our side, as that November 2012 conference was in Philadelphia, PA – a couple hours drive from our home. Attending that conference and meeting more families and PWS experts continued to give us hope for Declan's future. One piece of anecdotal advice we received from some fellow parents was to add to our family! I remember thinking, "Are they crazy?! I'm barely keeping up learning to care for my baby with special needs, and they're telling me I should have another child?!"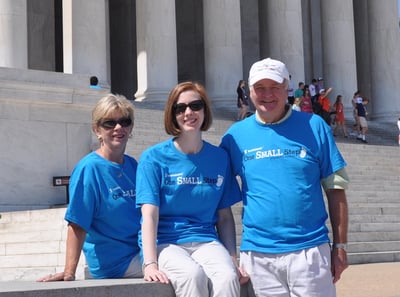 And yet it seemed fate intervened again, as in December 2012, we were stunned to learn we were expecting another baby, just eight months after Declan's birth. It seemed we were really off to the races at this point! The arrival of Declan's brother Cillian in August 2013 completed our family in so many ways. Over the years, Cillian has often been Declan's best buddy, his motivator (he actually walked before Declan did), and our constant companion to doctor and therapy appointments. He was like our advance team, sprinting down office hallways and bursting into waiting rooms a minute or two before Declan and I would walk in! He has also provided a much needed sense of normalcy, as Brandon and I couldn't devote all our time and energy to Declan; Cillian needs us just as much!
Our family moved to Richmond, VA in mid-2019, just a couple hours from DC, and due to our move and the Covid-19 pandemic, we have not been a part of the DC walk since, until this year! We are excited to be returning this year, especially since it is the tenth anniversary of the walk, and also our tenth anniversary of attending that first walk! We can't wait to gather with our PWS friends again. Our community is small yet mighty, and determined to find treatments for our children to give them the independent lives they so deserve. After all, isn't that what all parents want for their children? The opportunity for them to "leave the nest" and live fulfilling, independent lives. I know that is what we want for our Mighty Declan!