FPWR is investigating several devices that have been proven effective in treating a myriad of symptoms associated with other medical conditions & have considerable potential to relieve symptoms of PWS. Devices offer many advantages including an expedited timeline from proof-of-concept to patient access and a lower risk of negative interactions with other medications.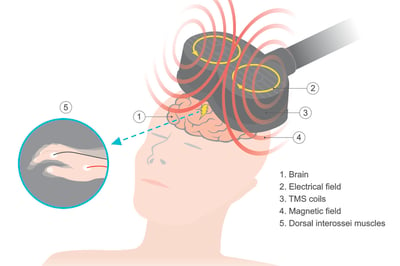 In addition to Vagus Nerve Stimulation (VNS), FPWR is exploring the use of 3 medical devices that may have potential therapeutic benefits for PWS:
Each of these devices have been used for indications other than PWS, with evidence that they may be beneficial for PWS as well.
Noninvasive Peripheral Ultrasound
In preclinical studies, noninvasive peripheral ultrasound shows promising results, impacting appetite and improving metabolism.
Dr. Puleo and his team at GE Research are investigating the use of peripheral ultrasound to modulate targets in the brain and impact energy balance and weight. In previous studies, they have shown that their ultrasound stimulation technology can precisely modulate hypothalamic neurons that are responsible for controlling hunger and satiety. This potentially offers a new way to therapeutically improve food seeking behaviors and metabolism in PWS.
Dr. Puleo's team has strong preliminary data in several rodent models of obesity and have performed early-stage clinical trials in healthy obese people. Using our financial support, the team will now use their ultrasound device in a mouse model of PWS to determine if this therapeutic approach is relevant to PWS. If successful, the team will then be able to move this technology to the next step: a phase I human trial.
Transcranial Magnetic Stimulation
Current clinical applications for transcranial magnetic stimulation (TMS) include stroke, Alzheimer disease, adolescent depression, bipolar disorder, and more. Can this safe, non-invasive technique be applied to PWS?
New research has identified a new brain pathway: the cerebellum-ventral striatum (CVS) circuit, that is involved in regulating appetite and satiation and is altered in PWS. In this FPWR-funded study, Dr. Laura Holsen will test whether TMS can impact the function of the CVS circuit and reduce food intake.
12 individuals with PWS will receive transcranial magnetic stimulation to determine if the therapy is feasible and safe, and if it can reduce hyperphagia. This small pilot study will lay the foundation for the development of future clinical trials on cerebellar TMS for hyperphagia in PWS, towards a goal of lessening this challenging behavior for individuals with PWS and their families.
Bright Light Therapy
Light therapy has been well studied and is an evidence-based treatment for both seasonal and non-seasonal forms of depression in the general population. It can be used to gradually normalize sleeping patterns and improve mood. In this FPWR-funded study, Dr. Singh and his team will evaluate bright light therapy in children (6-18 years old) with daytime sleepiness, and measure its effects on sleepiness, behavior, and activity.
Excessive daytime sleepiness (EDS) is a disabling problem that affects over half of all individuals with Prader-Willi Syndrome (PWS). It interferes with the social, educational, and behavioral well-being of persons with PWS, and is associated with a significantly higher risk of mental health problems. Some of the medicines studied to treat EDS in PWS include stimulants, modafinil, and armodafinil. However, these drugs may not be well suited for everyone, and drug-drug interactions may limit their use. Thus, a non-medication treatment strategy may offer new options. This will be the first study assessing the effect of any non-medication treatment strategies to reduce EDS in PWS.
Light therapy (LT) utilizing appropriately timed exposure to an artificial full spectrum lamp works by re-synchronizing the biological clock (circadian rhythm) and enhancing alertness. Given its easy accessibility, lack of need for medical supervision, and safety profile, LT may prove to be an excellent non-medication means to address EDS and related behavioral issues in PWS, alone or in conjunction with other therapies.
This study will be enrolling patients soon! Please watch for our announcements.