Neuren Pharmaceuticals has added Prader-Willi syndrome to their development pipeline for compound NNZ-2591 following a successful study in a pre-clinical model. The study showed compelling benefits for treating key symptoms of PWS.
Key symptoms were eliminated after treatment with NNZ-2591 in Magel2-null mouse model of Prader-Willi syndrome including:
Both dose levels normalized all behavioral deficits.
Obesity was eliminated, abnormally high insulin levels were reduced to normal, and abnormally low levels of circulating IGF-1 was increased to normal by the high dose.
The low dose partially improved obesity, insulin levels and circulating IGF-1 levels.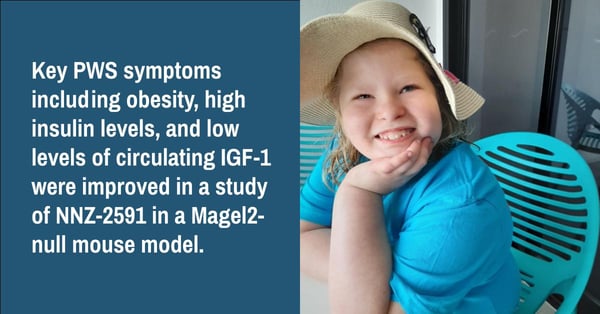 Neuren CEO Jon Pilcher commented: "These excellent results have once again reinforced the potential for NNZ-2591 to make a difference across multiple neurodevelopmental disorders in which signaling between brain cells and IGF-1 metabolism are impaired. We look forward to working with Prader-Willi families and clinicians, as we are already doing with PhelanMcDermid, Angelman and Pitt Hopkins, to bring this potential treatment to fruition."
Neuren intends to submit applications for Orphan drug designation in the US and Europe. NNZ2591 has already received Orphan drug designation for Phelan-McDermid, Angelman and Pitt Hopkins syndromes following similarly compelling pre-clinical model results.
Additional study details are available in the Neuren Pharmaceuticals announcement.