This blog is based on a presentation at the FPWR 2018 conference. You can watch the complete presentation by clicking on the embedded video. In case you don't have time to watch the full video, we've included a full transcript below. You can also watch the full set of conference videos on YouTube.
Video Transcript
Theresa Strong (FPWR Director of Research, moderator):
Good morning everybody. I'm very excited to be leading this (or moderating) this clinical trial panel. It's a really exciting time in PWS research. Even five years ago we really had no new prospects for drugs to help our kids manage their hunger and their anxiety and we're at a point now I think where there's a lot of potential pharmaceutical interventions that can really help our kids live long and healthy lives. In order to see if those drugs are actually going to work in PWS, it's really up to us to learn about these clinical trials and see if we might enroll. I am always cognizant to the fact that my son (he's 24); he started growth-hormone when he was seven, which at the time was very early for starting growth hormone. The only reason that he had access to growth hormone was because some other mom and dad made the commitment to enroll in a clinical trial and help us learn that was something that was going to significantly impact the lives of people with PWS. …
Last year I gave … a 13 minute video on our clinical trials website that talks about the different phases of clinical trial phase 1, phase 2, phase 3; and what is being accomplished in each of those phases. You have an idea of what stage each drug is at. It also talks about some of the orphan products. Prader-Willi syndrome is considered an orphan disease, which gives some advantages for a drug development as far as speeding up the drug approval process and things like that. There's a 13-minute overview of that whole thing that's available on our clinical trials webpage. With Rob Lutz at [PWSA-USA]; he and I gave a webinar a few months back talking about the clinical trials that were upcoming and also providing some resources (like where can I go about questions about my clinics? What questions should I be thinking of so that I can bring it to the doctor and make sure that I'm asking the right questions?). That video is also available on FPWR's YouTube channel. We also have on our clinical trials website — you can download the slides which points you to the various resources that may be useful in helping you evaluate whether you want to enroll your child in one of these clinical trials. Please feel free to access those resources. I will point you to the clinical trials page on the FPWR website. Susan [Hedstrom]'s done a fantastic job of putting this page together; all of the active clinical trials and those that are about to start for PWS are up there you can click through each trial to the clinical trials.gov website which is the official website. That has all of the details for the clinical trials. As clinical trial sites open, they're going to go up on the map.
One of the things we're really excited about all these clinical trials; it's all together, it's going to be a lot of participants that are needed. One of the things that all of the companies are working on and we're working with them is to identify a new trial site so that these sites can be closer to you. I hear rumors, for example, I'm in Birmingham Alabama; I've heard rumors that there's perhaps going to be two clinical trials going on in Birmingham (because we've done clinical trials and it's been driving hours or flying) and the more we can get these out into the communities, I think the better we'll be at enrolling them. We're excited about the opportunity to do that; bring these trials to people who haven't been able to participate previously. There's that map that you need to keep an eye on. You can sign up for the clinical trials alert as new clinical trials come open. You'll get an email about that you can download a fact sheet with frequently asked questions. You have the resources to know what to ask and who to ask. Finally, Jessica talked about the PWS registry. If you enroll in there and you're eligible for a clinical trial, we'll send you out and you click that we can contact you. You're in charge of that. If you click that we can contact you, we will send you information about clinical trials that you're eligible for. I would also remind you that on that clinical trial page there's some non-drug studies; interventions and opportunities to participate either in developing clinical trial endpoints or sending your child's poop to Andrea Hack to analyze so we can learn more about the microbiome. There's many ways to contribute in many parts of your kid's body that (including their poop, so please take a look at those). Some of these are very easy to participate in and it's towards building general knowledge and looking at non- drug interventions for our kids. That's also on the clinical trial website. If you click on each of those studies, you'll get more information including the contact information. I'm not going to talk about the global registry because Jessica [Bohonowych] did such a great job, but I hope all of you will enroll in the global PWS registry. Finally, you know should I enroll my loved one with PWS and a clinical trial and I would say that decision – only you can make. You need to speak with your personal doctor. You need to speak with the doctor at the clinical trial site, so you understand the potential risks and benefits of any drug. Then you need to make the decision that's right for you because it is a commitment. Many of these trials are 16,18,20 weeks and it's several visits but it's a real way that you can be contributing to the community and contributing potentially to a healthier life for your child in the long term.
We're not here to endorse any specific clinical trial but what we are here to do is to offer you the information and encourage you to learn about it. I would charge each of you with finding out if your child is eligible for a clinical trial and if they are, then finding out about that clinical trial so you know taking those first steps of learning about it and seeing if it's right for you. You'll have a lot of opportunities to hear about the different clinical trials that are in process and coming up. With our panelists, we can ask questions here or they have booths set up, so you can ask one-on-one questions as well. With that, we will go ahead and get started.
First, we'll invite Dennis Kim up to talk about Zafgen and their PWS research and development.
Dennis Kim:
Thanks Theresa. Good morning. I hope you guys are all feeling okay this morning. My name is Dennis Kim and I'm the chief medical officer for its Zafgen. For those of you familiar with Zafgen, you guys have known us for a few years. Some of you that don't know us at all, we are a small biopharmaceutical company working on mostly complex metabolic diseases through inhibition of an enzyme called refining amino peptase (what the enzyme is called is not very important). I think you will also see however we leverage that technology to try to address complex diseases like PWS and type-2 diabetes and other metabolic phenomenon. We are a bicoastal company even though we're headquartered in Boston. The clinical development group is close to San Diego. I think we got the better end of that bargain, although we don't really have a football team anymore. It's been great to connect with many of you over the last day or two including some of the organizers and scientists. I want to take the opportunity to thank FPWR for the opportunity to speak, for the invitation. We love working with FPWR. I think they have a great staff and it's we're eternally grateful to be able to work with such a great group all the time. When we first entered into PWS space therapeutic area a few years ago, we learned quite a bit. We didn't realize at the time (perhaps we underestimated) just how complex diseases, not only in molecular level, physiologic level, but also in the medical sense. Patients have lots of medical issues that come up and although we were initially focused on hyperphagia and body weight, we've learned quite a bit about just how many more things there is to be addressed in in the disease. We also didn't realize, not only is the disease intellectually challenging, but we also didn't realize just how much the disease, and the family, and the community was going to impact us. We've been inspired quite a bit by the community and the patients and the families. It's been a driving force behind what we do every day at Zafgen and we have a company-wide commitment to bring a new therapy forward for the disease. I think it's an everyday phenomenon for us to make sure that we come up with and discover and develop an effective drug that is safe and can go a long way for everyone involved.
With that, let me introduce our product candidate, if you will, or a candidate called ZGN-1258, which Dr. Fagan did an excellent job two days ago presenting in terms of our animal studies that we've done to date. Defining a MetAP2 Inhibitor, our lead compound for this indication called 1258 or ZGN-1258; it's designed to change the way the body senses stored energy mostly in the form of adipose tissue or fat. Most of us carry enough adipose tissue to supply our energy source for a while and in certain cases we lose or have diminished ability to sense just how much stored energy we have. It's like driving a car and not knowing how much fuel you have in your tank. The drug appears to restore some of that sensing energy, sensing ability and as a result patients and animals that the drug is given to tend to eat less and lose body weight (and use the stored energy again, usually in the form of fat to drive energy utilization). Advancing this new molecule for the treatment of PWS in the clinic before we can get there, as you've heard, we have to do animal testing first. We do animal testing to see the efficacy or effectiveness of the drug as well as the safety of the drug. What Dr. Fagan presented a few days ago and was presented in a poster session; there are three different endpoints of the drug and its effects on different animal models of Prader-Willi syndrome. We use models that others oftentimes use such as magel, to knockout mice or ob/ob mice which is leptin deficient mice, or diet induced obesity model. All three models don't fit PWS perfectly, but in combination perhaps they give us a better insight as to how the drug can help individuals with PWS eventually. What we've seen through these studies is that if there's consistent reduction of body weight and food intake across the three models, as well as improvement in certain behaviors, that's sometimes observed in patients with PWS-such as anxiety compulsive disorder behaviors and obsessive tendencies.
Importantly, what we've also demonstrated is that this drug candidate 1258, although it retains a lot of the effectiveness of the prior compound that we were working on called, ballerina it has much improved safety profile comparatively. We showed this again through the poster that Dr. Fagan presented but also in many other models such as dogs and invitro systems that we've developed. We're extremely excited about the potential of this drug and the ability or the prospect of moving it forward into patients in clinical trials hopefully soon. I'm also going to share with you some information on a PATH for PWS, which is natural history study that we've just launched in collaboration with FPWR. I'll go into that a little bit more detail in a few slides. We do have a PATH for PWS booth right outside, so if you're interested in learning more please stop by and then there's also of course a website that you can also get information from. It's important to test these drugs in animals first and in the context of what we're doing here it's often what we wanted to do. Our goal as of two or three years ago and what we've been working tirelessly for the last two three years is to try to retain the efficacy of ourprior molecule but to improve the safety profile, where we have a lot more confidence going into the clinic's. This is the data that we were able to garner after our phase 3 study was completed a few years ago and it showed remarkable improvement in not only body weight but also hyperphagia behavior as measured by HQ-CT. It was a phenomenal result and patients and family members called us and emailed us quite a bit asking about why the drug not become available anymore. This is one of the reasons that drove us to try to discover a safer alternative to this molecule and 1258 highly improved safety profile, while retaining efficacy in animal models (at least of obesity hyperphagia) has been very encouraging so far. Of course we have to prove that in humans as well, so switching gears we talked about PATH for PWS. In terms of Natural History study, we're launching a study co-sponsored with FPWR to help those better understand the serious medical events that occur in patients with PWS as they live their lives. There is information available about some of the medical issues that come up through the natural progression of the disease or history of the disease, but it is somewhat deficient. We want to bridge that gap. We also are evaluating how PWS related behaviors and hyperphagia change over time. This will hopefully help inform us, develop and run better clinical trials and design these trials for potential new treatments including 1258; but also, for other potential therapies as well. The study is conducted through the Global PWS registry and individuals can participate in this trial or study while enrolled (and in other therapeutic studies); they're still eligible to enroll here. This was aimportant point for us because oftentimes, when you're enrolled to one clinical study you're usually precluded from participating in other studies, but we want to take all comers.
One other important things to point out is that this is just an observational study, so there's no therapy given, no intervention given. We're just going to ask you to fill out some questionnaires on a periodic basis so that we can tell if you're having trouble, if you're doing better; what medications your patients or your kids may be taking, and how that may be changing over time. The eligibility criteria highlights are on this slide. Criteria: diagnosed with PWS age 5 and above, lives in US, Canada, or Australia (that's because you need to be English-speaking- we haven't been able to go so far as to be able to translate things in other language for the questionnaires, that's in the study- but hopefully one day). Also, must be enrolled or willing to enroll in the Global PWS registry internet access is a must because this is how the information is going to be gathered all through the web. There's no actual clinical site visits. You can do all of this out of your home or in your office, wherever you have your internet access. Enrollment begins next week on October 10th, so it's timely that we're all here because I think this will really help us leverage all the people that's sitting in this audience here and the exchange of information that we have. The website is www.PATHforPWS.com and you can contact us through the email address that's listed here. Thank you for your attention. I enjoyed meeting many of you yesterday and some of the organizers of course and breaking bread with you it was fun. Thank you.
TS:
I will mention that official enrollment into PATH for PWS is October 10th, but we have special super-secret pre-enrollment, which is really the same as enrolling here. We have iPads out there if you're interested in enrolling for PATH for PWS. We can help you get through that consent process and get things rolling so please feel free to go to the PATH to PWS booth out there and start the enrollment process. Dennis didn't mention that there's a little gift card after you fill out all of the surveys, so that's a little bit of a reward for your time and for the investment of your effort and pulling the records together.
Next, we'll talk about the phase three study of diazoxide from the company Soleno.
Jennifer Abuzzahab:
Hi, I'm Jennifer Abuzzahab. I'm a pediatric endocrinologist from Children's Minnesota and I really want to thank the FPWR and for the opportunity to share some of the information about this new trial. Also, for all of your attention and willingness to participate in a variety of trials that are going on. I really feel like it is a really exciting time for research for Prader-Willi. I've been a pediatric endocrinologist in Minnesota for 18 years and have patients that I've watched grow up throughout the years and it's really fun to have things that are on the horizon that can potentially help and get more answers. I think for me that's the biggest part of research, is to get answers. This study is looking at Diazoxide Choline Controlled Release or DCCR. I'll refer to that the rest of the time. This is a drug that we've used in pediatrics for children with hyperinsulinism for a long time, so we recognize the safety profile of it. This is a controlled release tablet, so it's a little bit different formulation but of a drug that we know. To think about why we use this drug, I'm just going to go into a little bit about some of the hormones and integration pathways and the hypothalamus. I think when you think about all the hormones that run around your body- I like to think of them as text messages maybe in the hypothalamus itself, is sort of the LTE network that integrates all those text messages and helps you decide; feeding, and energy, and behaviors and pull them all together in a cohesive fashion. We're going to focus today on a very small part of the very small hypothalamus, or probably the arcuate nucleus and neuropeptide Y, and a good related protein interaction, and how they regulate feeding and energy balance. We know that these are appetite stimulatory neuropeptides and that the arcuate nucleus is very important for integration of all the other peripheral satiety, and an appetite hormone, and how you integrate all of those peripheral signals into the coordinated balance of how hungry you feel (and how much energy you're expending). We know that Prader-Willi patients have a loss of the SNORD116, or the small nucleolar RNA C D Box 116, so you know why we named it SNORD, and that a paternally imprinted gene. It's lost in patients with Prader-Willi syndrome and by losing that, then they have a hyperphagia expression and that's part of the hyperphagia behavior problems that are seen in Prader-Willi. We know that these proteins are also regulated by the potassium ATP or kATP channels, and because diazoxide affects those channels, then it affects the secretion of neuropeptide Y and AgRP in the arcuate nucleus, and then will decrease the secretion of those peptides (and therefore decrease hyperphagia, improve fat, and probably improve behaviors as well).
The primary objective for this study, now in phase 3, is to look at the change in hyperphagia from the Baseline to Visit 7. Over the course of the 15 weeks study- this is the ninth study, so there have been eight prior studies using this compound and a total of 210 patients in total in the previous studies. The secondary objectives of the study to really look at the changes in body fat mass so looking at DXA scans prior to enrollment and then at Visit 7, and then the changes in global impression scores from the caregiver to look at the other markers or pieces of this integrative pathway to see if there are changes in behavior in obsessive tendencies (and maybe even aggression tendencies or obsessiveness). This is a 15-week study. Our goal is to enroll 105 patients. There's currently six centers that are up and running and there are an additional ten centers that will be starting. It is a randomized double-blind placebo-controlled parallel arm study, so none of us know whether your child would be on the drug or on the placebo the first six weeks. It is important because the there's a dose titration. We know that slow titration of this medication decreases the side-effects and improves the safety of the medication. Patients who complete the 15-week study will be able to enroll in a nine-month open label extension study. There's already been one patient now who's enrolled, so it's now finished. The full 15-week study is now in the open label study and it is just a tablet once a day. That's the administration and you can see in the bottom here the sites that are open and then the sites that will be coming soon. Maybe one will be near you and these are the exclusion criteria just to get a brief overview of what the study is looking at. We're looking at patients four years of age and older for inclusion. They do need to be able to swallow a tablet and they need to have genetically confirmed Prader-Willi syndrome and hyperphagia, (because of the questionnaires that we're doing to look at behavior changes) and be in a stable care setting with the same caregiver or consistent caregiver for six months (who can complete those surveys).
The exclusion criteria is way less than 30 kilos and great or greater than 135. Because of the preparation of the tablets and the dose per kilo (that's the weight restrictions) and there are some prohibited medications, looking at things that could inhibit CYP450 (that's how diazoxide is metabolized). Also, any other anti-obesity medications are excluded throughout the trial for 3 months prior then completely during the trial. Also, any weight loss procedures such as gastric bypass and any medications that are known to prolong the QTc interval, systemics theories, and any investigational drugs or devices (just for the three months prior to the study and during the study). That is my brief overview, so if people have questions, I just want to thank you for your time and for listening.
[Applause]
TS:
Maybe we'll wait till all the presentations have happened and then we can ask questions.
Our next talk will be from Surya Allas, talking about the drug from Millendo Theraputics.
Soraya Allas:
Good morning everyone. Thank you very much for the invitation and the opportunity to speak today. My name is Soraya Allas and I am leading the clinical development of a new drug called Livoletide, that is being tested for the treatment of hyperphagia and food-related behaviors in patients with PWS. It is a very great pleasure for me to be here today with you. I have been at some family conferences in the past few years talking about this compound and giving updates and showing data from the early work that we have been doing with the drug. We have tested the drug in various study population including in patients with PWS. We are today having very exciting times as we are preparing the next step. The next step is a large clinical trial that's going to be a long-term treatment clinical trial, international clinical trial, with patients from North America and Europe. I hope that today I will be able to transmit all the enthusiasm that we are having in the preparation of this clinical trial.
A few words about us for those of you who do not know us, we are Millendo Therapeutics. We are a biopharma company. We are developing drugs for the treatment of endocrine disease, with the special focus on rare disease. We are a team of about 30 people. Some of us are based in the US and some of us are based in France. As an introduction to the drug I wanted to say a word about Ghrelin. This is something maybe you have heard of. Ghrelin is a hormone that everybody has. It has the particularity to be present in the blood in two forms: there is the acylated form and the unaffiliated form. The difference between the two, chemically speaking is just a little thing that permits acylated Ghrelin to bind to some receptors in the brain. However, these two drugs have very different biological effects. Acylated Ghrelin is the hormone that stimulates appetite and the opposite actually unacylated Ghrelin is able to inhibit the effect of acylated Ghrelin on appetite. Acylated Ghrelin has also some other biological activities. It is also the hormone that permits fat deposition and that increases glucose level. Whereas, un acylated Ghrelin is actually doing the opposite. Why are we talking about Ghrelin in PWS? After the discovery of Ghrelin, it's actually very new, it has been discovered only 20 years ago and 20 years is new in medicine. When the hormone has been discovered as a hormone that stimulates appetite and knowing that symptoms are present in PWS people were curious to look at levels of Ghrelin in PWS. At a time, actually the only things that was available was an acid that was able to measure total Ghrelin, so we were not able to measure the both forms of Ghrelin. However, it was very clear that Ghrelin levels were elevated in PWS so when these become available and could distinguish between the two forms of Ghrelin acylated form and unacylated form, some studies and some data came up. I would say few studies have been published and a large study has been published recently in 2016, clearly showing that the form of Ghrelin that is elevated in PWS is isolated Ghrelin, so it's not surprising because it is the hormone of appetite.
On the other side, Ghrelin levels are not necessary elevated when you look at all patients. However, when you look across time and across different ages and what we call nutritional phases, it is very clear that something is happening when hyperphagia and obesity develop, and this is actually a drop in levels of unacylated Ghrelin. Acylated Ghrelin is elevated in PWS because an isolated colony is able to inhibit the effect of isolated ruling with respect to stimulation of appetite. Because there is this drop in unacylated Grehlin, when developed these observations were the basis of our rational to intervene with an acylated Ghrelin. We thought giving unacylated Ghrelin to patients could have some benefits, so our drug is actually a part of an acylated Ghrelin. This is not the whole hormone. The whole hormone has 28 amino acids. Thijs circle in blue that you can see, and our drug is part of eight amino acid and we have made the drug cyclic in order to have in the blood longer. This is important to have that in the blood long enough, in order to maximize the biological effects of the drug. It's first in its class. It means that it's the first compound of its category. It is given once a day and it is given by subdued injection.
What have we done so far with Livoletide — this has already been tested in humans; this is what I had mentioned in my introduction. We have done studies in healthy volunteers. This is the way to start clinical development. You test that in healthy volunteers. We have also tested the drug in other study populations and this includes obese subjects and patients with type 2 diabetes. We have also performed a small study in patients with PWS, so overall the drug up to two weeks of administration has been well tolerated. This is important. We have noticed no serious adverse event and we were able also to show some improvement in what we call metabolic parameters (basically reduction in weight) also some reduction in blood glucose in obese subjects as well, and in patients with PWS. we were able to show some improvement hyperphagia and food-related behavior. That was the study that was performed in Europe. We had three countries participating to the clinical trial. We had friends… we had Italy and Spain; a total of 47 patients. Half of them were on the drug and the other half on placebo, so the drug was shown to be safe and was shown to improve hyperphagia and food-related behaviors, were also seeing some reduction in fat mass. We were also able to structure to show some reduction in post-meal glucose levels. There was no effect on body weight; it was a short-term study, two weeks of administration only.
There is a next step is this study that is going to start fully in early 2019. This is a large study. There will be three arms; three months administration; where one two thirds of patients will get the drug- two different doses and one-third of patients will get the placebo. After three months, for nine months everybody will get the drug so it is a total of 12 months treatment. We're going to have 150 patients. It's going to be a global study, so international study, with sites in the US and in Europe. In terms of endpoints, we going to look at after three months- we're going to look at hyperphagia and through a questionnaire. This is something maybe that some of you have heard. It is what we call the hyperphagia questionnaire. This is a tool that has been validated to be used in in clinical trial. We only look also at some metabolic parameters, such as weight, fat mass, waist circumference, and some other parameters as part of as safety assessment. The second part of the study: the nine months extension period; this is important to have this extension period, in order to be able to show some effects to see if the drug the effects are maintained over time. It is also very important in order to assess safety; so long-term safety. This is important to have these nine months as an extension. Finally, patients who are going to participate in this clinical trial should be between the ages of 8 to 65. They should have a single primary caregiver. This is very important. The person is going to be to filling out the questionnaire, so this is a person that is caring for the patient. Also, patients without type 2 diabetes are allowed to participate to the study as long as their hba1c is lower than 10%. There is no exclusion criterion with respect to weight of BMI. We are excluding only very obese patients. Finally, cross thermal treatment is going to be permitted if those are stable. This is basically our study that we hope to again to start early in 2019 with sites open in the United States. I would like to thank you very much for your attention.
[Applause]
Ahmed Elkashef:
Thank you very much; pleasure to be with you today. My name is Ahmed Elkashef. I'm the VP for clinical development at INSYS and this is a small pharmaceutical company focusing on THC medicinal indications; also spray technology. We very much appreciate the foundation giving us invitation to come and talk to you about our clinical trial which I'm going to go into the next few slides. We make synthetic CBD, which is very different from out there in the market. It's 99.5 % pure and it is made according to FDA and good clinical manufacturing procedures. It has a strawberry flavor and there's a little bit of sugar in it and the total calories from taking the dose is about 7.0 - It's very negligible. We started a study to assess the efficacy of CBD and PW and I just want to say that I'm really touched by being in the meeting for the first time and seeing families and all the work that you're doing. You should be all very proud for advancing the science for the benefit of your children. This is just remarkable. This the primary objective of the study; is assessing hyperphagia and the secondary objectives are going to be the reflection of that on the weight change, and the body fat and so forth. This is a double-blind randomized one to one, so your child has a 50% chance of being on CBD or placebo. The sample size is 66 patients. The duration is about 15 weeks for the treatment, including your screening, and there is a two-week placebo run in at the beginning, and then a month follow-up at the beginning. It might go up to about twenty-two weeks or twenty-one weeks. So far, we have ten centers. It's all in the U.S. One site is up and running already in Washington State and a few sites ago and getting their IRB approval and getting ready to start. It takes a little longer to get the site's initiating and up and running because CBD is still a schedule 1 drug by DEA standards and FDA, so it takes a while to get all the licensing and the approval to use it for investigational trial. However, another company GW pharmaceutical, have already gotten first approval for their CBW for Dravet syndrome (which is another rare disease, epileptic type disease). For that reason, CBD was rescheduled to schedule five, which is really good news. However, DEA said still for investigational purposes, it will remain schedule one until FDA approves it for that indication.
About the inclusion criteria/exclusion criteria. the patient age is 8 to 17, diagnosis of Prader-Willi will be made, if it's not made already, it will be done with a genetic testing (that is required). There is a list of eligibility criteria that you can see in detail on the clinical trials.gov or if you stopped on the booth we have information to give you about inclusion and qualifications for the trial. Of course, with the multiple visits and longer duration of the study, it's a considerable undertaking on the family, so you have to comply with all these visits and data collection. This is a map of where our sites are, the greenside there is the one that's already started and there are other sites in red they are in the process of getting ready to start. We have few more sites to also initiate and incorporate, so if you see a site on the map in the state where you live, by all means feel free to contact them. Again, we are grateful for the foundation for including all the information on the foundation sites, as well with details, contact number of investigators, phone numbers, emails. You can get this information from the either the foundation or the clinical trials that go. I'd like to introduce my colleagues J. Castro who is running in a trial with Ashley Lockhart (he's sitting right there) and they're going to be in the booth, so feel free to introduce yourself and get more. Behind them is our senior VP Mr. Steve Sherman. With that, I'll stop and see if you have any questions at the end. Thank you. guys.
TS:
Okay, here is the talk about Carbetocin, a phase three study.
Davis Ryman:
Thank you, Theresa. My name is Davis Ryman. I'm a neurologist and a geneticist currently working with the team Levo Therapeutics. We'd like to thank PWR for inviting us to present an update on our planned phase three study of an investigational medicine called Carbetocin which is scheduled to begin later this year. I'll try to present to you some brief background about Carbetocin and also some results from the completed phase two study (which was completed in 2014) and then an overview of the plans to move forward with a phase three study later this year. As a disclosure, I am an employee of Levo Therapeutics, so to begin I'd like to give you a brief overview of what Carbetocin is and some of the reasons that are motivating us to continue developing it as a potential treatment for PWS. Carbetocin is what's called an oxytocin analog, which means that it's a man-made molecule that's designed to be very similar to oxytocin, which is a normal hormone present in the brain. As you might have heard and also seen at some of the other sessions in the scientific day if you were there, the oxytocin has been an area of great interest in PWS research because it has multiple normal functions that are relevant to behaviors often problematic in individuals with PWS. For example, it's very important for control of appetite and has roles in social and emotional behaviors anxiety and obsessive-compulsive symptoms. It's been shown that individuals with PWS have decreased number of oxytocin producing neurons brain, so it's our hope that delivering or restoring some of the absent or deficient oxytocin function with this oxytocin analog, might address some of those behaviors.
I'd also like to point out that Carbetocin was designed to be more selective, to specifically binding to those oxytocin receptors and not binding to other receptors in the brain (such as vasopressin receptors). We hope that might additionally be a strategy to potentially limit off target side effects resulting from the therapy. Also, interestingly there is a clinical experience previously with the use of an intravenous formulation of Carbetocin. Intravenous Carbetocin has actually been approved in 90 countries outside the US for a different use (to prevent bleeding following cesarean delivery) and there's been good safety experience with that use. However, of course the intravenous injection on a daily basis wouldn't be feasible for ongoing treatment of PWS; so an intranasal formulation was developed by Ferenc pharmaceuticals which involves intranasal spray three times a day before each meal. A phase 2 study of that intranasal form of Carbetocin was completed on 37 individuals with PWS. We can tell you a little bit about the safety and efficacy results from that study and it motivated us to continue now with a larger and longer phase 3 study of this intranasal Carbetocin in children with PWS. Here are the table of the safety results from the phase 2 study I mentioned, this was a study of 37 individuals with PWS who are aged 10 to 17, I believe. It was a relatively short study that involved 14 days of treatment, but it appeared relatively well tolerated during that study. This is a table of what's called a treatment emergent adverse events or basically any adverse reaction or were bad medical occurrence that was reported for the participating patients. Presenting all of the events occurring in five percent or more if the patients, the most common event reported was actually head that occurred in five patients receiving Carbetocin and six patients receiving placebo. It didn't appear significantly different. There were other events reported such as medication error; one report of abdominal pain in each group a conjunctivitis or pink eye infection; one episode of diarrhea and then this metallic taste, so there didn't appear to be any concerning differences between the groups or any reasons to believe that Carbetocin would not be tolerated. This motivates further development as a potential treatment.
Here are some efficacy results also from that study. You can see in orange. the results from the group treated with Carbetocin and in blue the results from patients treated with placebo. On the access showing this hyperphagia, a questionnaire score, this was an 11 item questionnaire measuring a lot of hyperphagia behaviors; and parents reports of food-related behavior and hunger, there was a significant decrease in this score, by whose apparent as early as day 8 and continued to be maintained at day 15 of this study ( which was significantly different in a greater reduction in hyperphagia symptoms than the placebo treated patients). Here are some other secondary end points or other questionnaires or scales that they assessed in this phase 2 study. We looked at this scale called the CYBOCS, which stands for the Children's Yale Brown Obsessive-Compulsive Scale. It measures a lot of obsessive compulsive behaviors including skin picking and repetitive questioning, which can be a big issue as well for a PWS patients. This also showed a significant improvement in Carbetocin compared to the placebo group. The profile food domain is another scale of hyperphagia or food-related behaviors which also showed a significant benefit for Carbetocin relative to placebo and the CGI is a scale that allows the clinician to have a overall assessment of how they feel the overall symptoms of PWS are doing. That was also significantly more moved in Carbetocin treatment and the version of the hyperphagia square rated by the clinician was also a significant benefit. In view of the positive apparent efficacy findings and encouraging safety and tolerability data from this space to study, it motivates us to continue with a larger and longer phase 3 study to confirm and extend those results in a larger set of PWS patients. If you'd like to see the full results of that phase 2 study, they were recently published this summer and they can be available on our website at levoto.com.
Here's an overview of our planned phase 3 studies: we hope to enroll approximately 175 patients at sites across the US and Canada. This will be a placebo controlled randomized trial that will involve an eight-week placebo controlled period. In other words, on entering into the study, the participant would be randomly assigned to get either one of two dosage levels of the Carbetocin or potentially receive an inactive saline placebo nasal spray for that eight-week period. After that eight-week period is complete, patients will be reassigned so they'll all be receiving active Carbetocin throughout the remainder of the study and they'll be continued to follow up be followed up for safety and efficacy for a total of 56 weeks. Some of the efficacy and safety endpoints or scales that will be monitoring in this study include the hyperphagia questionnaire (assessing hyperphagia symptoms), which is rated by the parent or caregiver. Also, the CYBOCS questionnaire that I mentioned; assessing obsessive-compulsive symptoms, the global impression of overall symptoms in PWS, and additionally this new scale called the pad Q or PWS anxiety and distress questionnaire You might know her, our CEO Sarah Connor, is actually a parent of a daughter with PWS and she's been working with the FPWR to develop and validate the scale for inclusion in our study. She'll be speaking about that later today and we're also including the food safe zone questionnaire, which is an assessment of all of the accommodations that caregivers have to make around food in their home to compensate for the hyperphagia.
We will also be assessing safety throughout the study with physical exams, monitoring of adverse events and laboratory tests; some of the principal inclusion and exclusion criteria. We're going to include patients who are from 7 to 18 years old and they'll need to have a confirmed genetic diagnosis of PWS. There's no restriction on the particular subtype that they have to have. They'll have to meet the criteria for what's called a nutritional phase 3. This was a definition developed by Dr. Miller in Florida, which basically means they have to be significantly hyperphagia; rarely feel full and have some significant hyperphagia baseline. Some exclusion criteria: we couldn't enroll patients who are in a group home because their parent or caregiver would need to be able to report on how they're doing throughout the study. We would like to avoid any new food related changes or environmental restrictions before entry into the study, and any recent changes in medications and ongoing use of medications like growth hormone is allowed. Also, they could not have participated in a different research interventional study in the six months prior to entry into this study. In summary, this is a planned phase 3 randomized controlled study that we hope will extend and confirm the promising safety and efficacy findings that we observed in the phase 2 study. We have an ambitious goal to recruit 175 participants and are going to be starting up possibly 20 or more sites across the U.S. and Canada will enroll patients aged 17 a 7 to 18. I'd like to also point out we have no restrictions on weight or BMI because. We understand that many PWS patients might be of normal weight because of intensive efforts and environmental control and that they still would have significant symptoms of needing treatment. After the initial eight-week placebo control period, all patients will receive active treatment for the remaining long term follow-up period and we'll be assessing change in hyperphagia obsessive-compulsive and anxiety. If you'd like to follow preparations for the study as it starts up you can follow our website at levotx.com. There's a link to the clinical trials.gov page that can also notify you of each local site as it becomes activated. With that, thank you and I'll take questions in the panel.
TS:
Finally, GLWL is another company that is present here today and has an ongoing clinical trial. They have asked me as a patient advocacy representative to present some of the trial parameters but they're here to answer questions if you'd like.
This is an overview of GLWL's ongoing clinical study to assess the efficacy of GLWL-01 compared to placebo in hyperphagia related behaviors in PWS. This drug is also targeting the Ghrelin, that hunger hormone that is elevated in PWS. It's attacking that pathway using a different approach compared to Mellindo's drug, for example, but same pathway. We know Ghrelin is high in PWS we know. Ghrelin is important in driving hunger and the question that we're asking here is; if we can interrupt that pathway or decrease those Ghrelin levels will it have an effect on hyperphagia? This is going to be measured using the HQ-CT, which is the hyperphagia scale that many of the companies are using that was the original developed by Elizabeth Dykens. The primary objective is to look at hyperphagia. The secondary objective is to look at the safety and tolerability of the drug to assess the efficacy as assessed by the overall global impression of change and to look at the pharmacokinetics. How is the drug metabolized and how does it stay and be secreted from the body? There's additional objectives, which is to evaluate (Dr. Surya talked about) the acylated Ghrelin versus the unacylated Ghrelin and how that balance between the two is important in driving hunger or not driving hunger.
This study will also look at that ratio. We'll also look at the body weight of the individual, change in body weight, change in fat mass change in BMI and weight circumference, and look at some blood chemistry about changes in the cholesterol and other markers of lipids in the in the blood. This is a rant like many of the other studies, it's randomized its double-blind, which means nobody knows who's getting drug. It's a placebo control so it's a comparison of drug to placebo but this is a crossover, so everybody gets drugs. Some people get drug than placebo some people get placebo than drug, but everybody gets drug. The study is designed for 34 patients with PWS and the duration is for 18 weeks, so this is a phase 2 study, so it's somewhat shorter and a sort of a medium sized number, compared to phase 1 or phase 3. The inclusion and exclusion criteria-this is for males and females over the age of sixteen who have a confirmed diagnosis of PWS. The BMI is quite a broad range of BMI, so 27 to 60 – that's a little bit overweight to obese- and the they're looking for the individual to have a pretty stable body weight coming into the clinical trial. I think all of the clinical trials, the person must have a caregiver who is familiar with their behavior, who is able to accurately fill out the hyperphagia questionnaire. Because of that, it's not really often I'm going to include individuals who are living in a group home, individuals who have recently been in a different clinical trial, or had a different weight loss agent that might have used, individuals with type 1 diabetes, of if the caregiver can't do the HP-CT, that's another exclusion criteria. This clinical trial is currently enrolling. I believe they have about eight or ten slots left to enroll and they're enrolling in the US and in Canada (three sites in Canada and in the U.S). This is an ongoing study and you can talk with Dr. Fortier about it.
With that, we come to the end of this session. I think we may have a few minutes for questions. We're running short, but all of these individuals and their companies will be represented to ask questions. If there are general questions than we can take a few of those now before we break.
[Participant]:
I heard from the presentation that once the patients are done with the study, they can continue for a certain amount of time that they're getting the medication itself. My question is by the time the medication has been given to the patient how does it work? Does the FDA approve it right away so that the patient can continue it? My concern is the adverse effect or the weening once the kids is not on medication. I want to know are they going continue it or once you stop giving the medication, do we have to wait for the FDA do have it approved?
TS:
Terminology wise, if the study says it's an open-label, that usually means you can extend (continue) to give the drug and it varies company to company. After a phase three study the companies will usually submit if they believe that the drug has been safe and effective. They'll submit that to the FDA and it takes up to a year for the FDA to review all that information and approve or not approve a drug. Does anyone else want to comment on that?
DK:
That's exactly right what Theresa said. It takes several, maybe even longer, for the FDA to review your application once you've done finished clinical testing. Usually that follows phase three trials so many of these trials that you saw today are in phase two stage (which means more in most cases). There will be another phase of testing that's necessary before the FDA will look at your application. Depending on where the drug is in this development process, your child with PWS may be receiving a drug all the way through if there's an open-label extension (like Theresa said) or there may be interruption in treatment. It really is individual cases- it differs for each case.
TS:
That's an important question to ask, when considering each of these. Will there be an open-label extension? How long is that open-label extension?
[Participant]:
To follow on that, in your experience, how long does it take for insurance companies to cover new medications? Is there something that we should be doing to help coordinate that process? I'm sure everybody in the room knows fighting with insurance companies to cover things is a painful and very time-consuming part of our lives.
TS:
If I can make a comment about that; Nathalie talked yesterday about the PWS clinical trial consortium and one of the objectives is to facilitate these clinical trials for PWS. We're also cognizant to the fact that once a drug is approved we are going to have to deal with the insurance side. We're trying to lay the groundwork for that. For example, we're working toward what is the impact of PWS on families, so we can we can get an indication of what are the quality of life issues? All of that information is important for establishing that the companies that the insurance companies will pay.
[Participant]:
Hi. I was at multiple meetings yesterday. I was at a meeting I don't want to misquote the meeting that I was at — Rare Access to Critical Therapy Summit yesterday in Irvine which, was a combination of the Child Neurology Foundation and Global Genes. One of the topics that we discussed yesterday was trying to work together, and Theresa and I spoke about this a little while ago, trying to work together for rare diseases. One of the things that we noticed yesterday; insurance companies weren't at the meeting yesterday, and we were all wondering where they were, and we also noticed legislators weren't at the meeting yesterday. I know next week Ahmed's going to meeting at NORD and I'm hoping that's one of the discussions that we have there; when as a pharmaceutical company, when we develop drugs, and if we can show that they have impact on people's lives; we don't want it to get hung up at the insurance company. This is one of the initiatives I think that we're all working together to try to resolve. Hopefully, as a group we'll make a consortium of rare disease foundations that can work together to make sure that government and insurance companies aren't roadblocks to getting therapies to patients.
[Participant]:
My question is about the CBD. Is the formulation going to be a megadose of what a person could not replicate with the legal way of administering? Does it need a higher dose and does that affect the Ghrelin?
AE:
Okay. No, those that we already currently using in two trials in epilepsy in children ---and I should have said something about this, but it's very very safe. The side effects we've seen are not serious and very mild and mainly a little bit of somnolence and some GI disturbance. Aside from that, it's very well tolerated. We don't exactly know if there is a relationship between cannabinoid system where CBD and THC, which is marijuana, work in the brain and how that interact with the system but the we think CBD would work. I should have said first that the CBD is not THC. It's exactly the opposite. If we think about it (for those who don't know) it actually blocks marijuana effects on the nervous system. Marijuana (THC) makes you eat. CBD is exactly the opposite and it counteract that effect so this is why we think it might help with the hyperphagia and obesity in general. It works on the cb1 receptors centrally in the brain as an inverse agonist (which is another way of saying it's a mild antagonist). It's sort of similar to the action of the the cb-1 antagonist that was approved years ago called a complier for metabolic syndrome. Fortunately, it has to be pulled from the market because of side-effects around depression and suicide. We have not seen any of this in our trials. So far, we have over 150 patients in different studies that we've studied so far and long-term safety study up to three years as well as short-term trials. We have not seen any psychiatric deleterious effects of that nature.
[Participant]:
CBD is the one that calms your nerves?
AE:
Yes, correct. It does it has a very strong effect anti-anxiety effect working on the serotonin receptors, so that's something else we will assess as well. Because of the anxiety and the obsession around food, we think CBD might help as a direct effect on the appetite.
TS:
I think one of the concerns about using medical marijuana or some of the preparations that are floating around on the internet with CBD, is that they do have THC in them and our kids are susceptible to psychosis and psychiatric problems. Potentially, those preparations- you could see where that might cause problems. My understanding is this preparation doesn't have any THC in it.
AE:
It is 99.5% pure CBD… no THC whatsoever, so it's very safe from that aspect. You definitely don't want to give THC to someone who is trying to lose weight because it increases your appetite (as we some of us may have experienced personally) The other thing I didn't mention is we are offering 11 months extension trial for CBD. Keep that in mind as well. The FDA filing unfortunately causes some interruption in treatment but hopefully not too long.
SH:
Thank you so much to all of our panelists who've come in today and shared a little bit about their trials. This is really exciting for all of our families. We've all been waiting for treatments and now it's our turn now. They've done the work; they've done the prep work. These studies are ready and it's our turn to help get these studies enrolled. It's up to the parents to enroll these studies and this is something that even if your child is not eligible for, you can help us with this work. You can talk about these studies on Facebook; when you're meeting up with parents in your community; you can talk to them about some of these opportunities that you've heard about today. Please do continue to help us spread the word.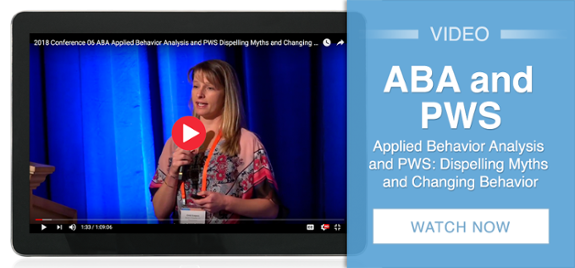 Learn more about Cindy Szapacs' presentation on ABA and PWS: Dispelling Myths and Changing Behavior.