ARD-101 is a new, oral therapeutic that has shown promising activity in reducing appetite and promoting weight loss in preclinical (animal model) studies.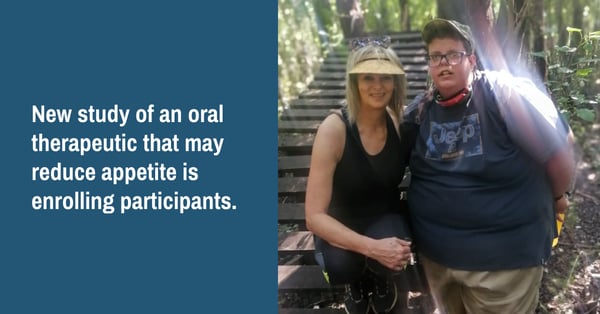 This drug works by targeting bitter taste receptors in the GI tract, where it acts to increase the production of gut peptides hormones that regulate appetite. Importantly, the safety of ARD-101 was documented in a recently completed phase 1 clinical trial in healthy volunteers. The phase 2 study of oral ARD-101 in PWS will evaluate the drug for its safety and effectiveness in treating hyperphagia.
This study is looking to enroll 12 individuals with PWS (ages 17-65 and BMI ≥27 kg/m²) who will take ARD-101 orally, twice daily for 28 days. The study will consist of a screening period, a 28 day treatment period, and a follow-up visit within 14 days after receiving the last dose of ARD-101.
Two trial sites are planned for this study. Children's Hospital, Colorado, under the guidance of Dr. Shawn McCandless, and Stanford Children's Health, California, under the guidance of Dr. Diane Stafford, are both now open and screening interested participants. The study is sponsored by Aardvark Therapeutics.
You can learn more about this study on clinicaltrials.gov. More information about how ARD-101 works can be found here. You can also watch a short presentation about the drug and the clinical trial below.