A special contribution by guest blogger Kristine Mosca
There was nothing more exciting than to hear that we were expecting our fourth child. I had delivered three beautiful children already and felt more than ready to welcome our fourth baby into the world. But when Lincoln was born a month early via C-section, the operating room was silent. We knew something wasn't quite right. We quickly discovered that not only was he unable to cry, he was very floppy, and had no suck reflexes either. He was immediately transferred to Boston Children's Hospital.
After several blood tests, EKG, MRI, spinal tap, etc., we got the dreadful news that are son had Prader-Willi syndrome. A very rare genetic disorder that effects 1 in 15,000 births. We were told that he would have severe cognitive delays, would not be able to walk until around the ages of 2 or 3 years old, would be severely hypotonic for the rest of his life, would never be able to have children, would likely have behavioral issues, he would eventually need to live in a group home, and worst of all, he would NEVER feel full! I was devastated. I could not believe what I was hearing!
Strong and Determined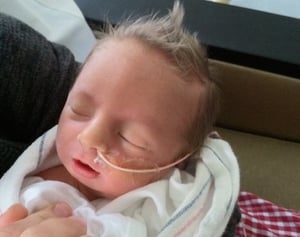 Like most Prader-Willi infants, Lincoln requires a feeding tube to eat due to aspirating caused by hypotonia. His team of doctors consists of over 17 specialists. He also sees a speech pathologist twice a week, a physical therapist once a week, and an occupational therapist. Milestones that come so naturally for other kids are anything but natural for Lincoln. He has worked hard for each one of them and we celebrate them all! He is a strong determined little boy!
As Lincoln soon approaches his second birthday, I lay awake at night thinking "could this be the year that he never feels full, the year that I am now forced to lock up all my kitchen cabinets, the refrigerator, even the trash so that my little boy doesn't possibly eat himself to death?"
A Reason for Hope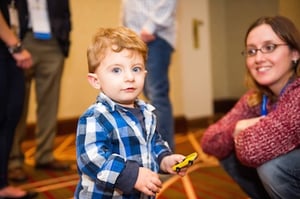 Feeling desperate for hope, last year we went to our first Foundation for Prader-Willi Research conference in Rhode Island. My life was forever changed! I learned that there IS hope for kids like Lincoln! His future doesn't have to consist of group homes. He could someday live a full and independent life! And it will all be accomplished through continued research and development of treatments!
So, this is where our new journey begins. We've decided to organize our first annual One Small Step walk, which will take place May 21, 2017, in Marshfield, MA. 100% of the proceeds will go to PWS research. If you're in you're in the area, please join us May 21 at new Harbor Park 9:30am-1:00pm!
Our family is so grateful for everyone who is taking One Small Step for Lincoln and other kids like him so that they can Live Life Full.

Do you have a story of hope to share with others about your experiences with PWS? Send it to us!