In support of our mission to advance the development of new treatments for Prader-Willi syndrome (PWS), FPWR announces our newest venture philanthropy investment in Aardvark Therapeutics.
Aardvark Therapeutics is focused on the development and commercialization of small molecule therapeutics that activate innate homeostatic pathways in the gut for the treatment of disease. Their lead drug, ARD-101, is an oral, first-in-class therapeutic that has shown promising activity in reducing appetite and promoting weight loss in pre-clinical studies and is now moving through a Phase I study to evaluate safety and tolerability in healthy human volunteers. If shown to be safe and effective in its Phase 1 study, Aardvark will then evaluate the safety of ARD-101 and its impact on hyperphagia and weight loss, as well as other PWS symptoms in individuals with PWS.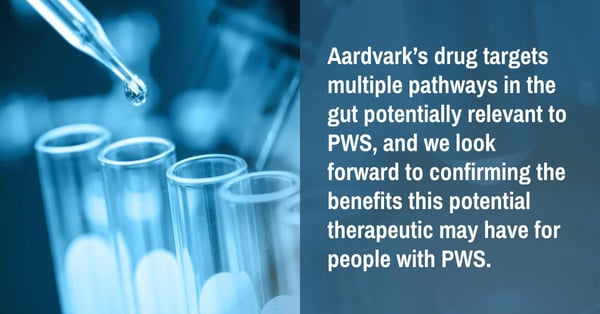 "FPWR is committed to advancing the development of innovative treatments through multiple channels," said John Walter, CEO of FPWR. "Aardvark's drug targets multiple pathways in the gut potentially relevant to PWS and we look forward to confirming the benefits this potential therapeutic may have for people with PWS."
"Our team at Aardvark has tremendous respect for FPWR's commitment and innovative programs in support of children and adults with PWS. Sharing in this mission, we are most grateful for our ongoing collaboration and look forward to initiating later this year a phase II clinical trial evaluating Aardvark's novel lead drug, ARD-101, in people with PWS," said Tien Lee, MD - CEO of Aardvark Therapeutics. "Working closely together, we hope to develop a safe and effective new treatment that will improve the health and well-being of those with PWS."
About FPWR's Venture Philanthropy Program
FPWR's Venture Philanthropy program makes direct investments in early-stage companies focused on advancing the development of new treatments to address some of the most challenging symptoms associated with PWS. In addition to financial investments, FPWR provides input on clinical trial protocol design and clinical sites, facilitates interaction with key opinion leaders, and assists with the facilitation of funding from outside investors to ensure the completion of preclinical, phase I, II, and III clinical trials.
Early Investments
In 2014, FPWR provided a grant to Essentialis (now Soleno Therapeutics) to help support an initial clinical trial of its drug, diazoxide choline controlled release (DCCR), in PWS. Since then DCCR has completed a phase III trial in PWS.
Our other venture philanthropy investments including Inversago Pharma, Lipidio Pharma, and Beryl Therapeutics, continue to make significant progress. Inversago Pharma and Lipidio Pharma, which are targeting weight loss and other PWS symptoms, have completed their phase 1 studies and plan to run phase II trials in PWS in 2022. Beryl Therapeutics, an early-stage company focused on bone density and bone strength, is currently raising the capital needed to launch necessary animal studies for proof of concept.
For more information on our Venture Philanthropy program, please email John Walter, CEO, FPWR.