In the last 5 years, more than 15 human clinical trials have taken place evaluating possible treatments for PWS. FPWR has been closely involved in each and every one: contributing the patient perspective to aspects of study design, funding or helping to secure funds, supporting patient education and recruitment, and interacting with the FDA.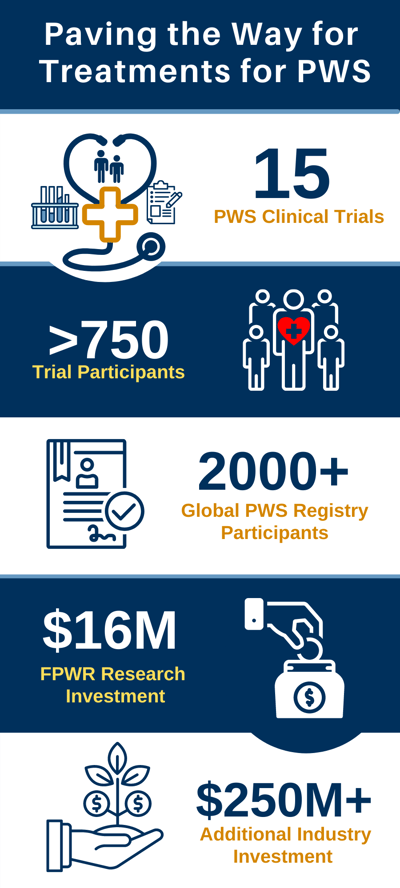 It has been a community wide effort bringing clinical trials to the PWS community however, and none of it would have been possible without our donors, families and loved ones with PWS.
2,000+ families have enrolled in the Global PWS Registry providing a robust group for natural history data. Your registry participation is supporting the advancement of new PWS clinical trials by providing important data and trends.


More than 750 people with PWS have participated in PWS clinical trials over the past 5 years. Additional patients of all ages will be needed to fill future studies as we work towards improved treatments for PWS.


FPWR has invested $16M into PWS research and an estimated $250M in additional funds have been invested to date by industry sponsors to advance PWS clinical trials. Not every trial returns positive results, but EVERY trial teaches us something new and supports our efforts to find treatments for PWS.
Your donations have developed of a strong pipeline of PWS therapeutics and a robust set of research tools to ensure that more clinical trials are moving forward as efficiently as possible, and will continue to develop in the years to come.
New cellular models have been established so that we can more efficiently screen potential drug therapeutics now and in the future. Additionally, we continue to improve our understanding of the basic biology behind PWS. As we better define what is broken in PWS, we can be increasingly directed in our efforts to identify drugs that can fix them. If we can figure out exactly what is wrong in PWS, we can be more strategic at identifying drugs that target those specific pathways.
While there are thousands of rare disorders identified worldwide, most have not experienced the same advancement of clinical trials as our PWS community.
Why have we been so successful?
The advancement of more than one dozen PWS clinical trials has been a culmination of more than a decade of work by many in the PWS community: PWS clinicians, parents, and advocacy groups have been documenting the natural history of PWS, defining the challenges of the syndrome and demonstrating the unmet medical need of patients. FPWR has been driving years of collaboration with key clinicians and researchers as well as working closely with industry and the FDA.
Here are just a few activities that FPWR has been pushing forward to help get us to where we are today.
FPWR has been actively reaching out to pharmaceutical companies who may have an interest in PWS. We have spent hundreds of hours on the phone and in person, talking with companies about PWS,helping them understand PWS and the unmet needs of our community, facilitating clinical trial design and working to develop trials that have the best chances for success. FPWR has been recognized for its productive collaboration with industry. We work with each company to de-risk the drug development process and speed up the timeline to taking a drug to the FDA for approval.


FPWR funded research has led to a better understanding of PWS. PWS is an incredibly complex genetic disorder, and while we still have much to learn, more than 190 publications in high-quality medical journals have resulted from FPWR funding. These publications provide essential knowledge for research scientists and are laying the foundation for future breakthroughs. FPWR-funded studies have led to a better understanding of how the molecular changes in PWS lead to the challenging symptoms our kids experience and have led to the identification of new targets for drug development.


FPWR has been fostering and financially supporting the work needed to move a novel drugs and devices into early stage clinical trials. This includes "preclinical studies" to test the suitability of drugs for use in humans, as well as actual early studies in humans. Examples include gene activation compounds in PWS mouse models, early human studies of diazoxide, oxytocin, transcranial direct current stimulation and vagus nerve stimulation. Most recently, vagus nerve stimulation (VNS) has been shown to improve behaviors in individuals in PWS. Your donations have enabled this work and in 2021 FPWR will advance a clinical trial of VNS in the United States with the aim of collecting the safety and efficacy data needed to make this technology available to our loved ones with PWS.


Established in 2015, the Global PWS Registry is documenting the natural history of PWS and provides a rich data source for researchers and clinicians.A robust registry is attractive for industry as it shows that PWS is a "research ready" community that will facilitate fast enrollment for clinical trials. Several research studies have been conducted through the PWS registry, including the ongoing PATH for PWS study, as well as the development of a new clinical trial tool: the PADQ Questionnaire, which was developed in collaboration by Levo and FPWR.


FPWR established the PWS Clinical Trial Consortium in 2015, which has been working to accelerate clinical trials in PWS. The PWS-CTC has demonstrated the unmet medical need of PWS patients. This will become increasingly important as completed studies apply to the FDA for new drug indications and the FDA begins to weigh the benefits and risks of these new therapeutics. When the FDA considers whether to approve a new drug, it is important that they understand that there are no current treatments for the most debilitating challenges of PWS, as well as the risks the community is willing to take for a given benefit. The consortium has collected and published this information so that it may be considered in the drug approval process. Documenting the unmet medical need and treatment preferences is also important to set the stage for insurance to pay for new treatments.
FPWR's work to advance PWS clinical trials over the past decade has only been made possible by our amazing supporters: our donors, fundraisers and PWS families. It has taken the dedication of thousands of volunteers to get us here — THANK YOU! To continue down the path towards treatments for PWS, we need your continued support.
How can you ensure the advancement of PWS clinical trials continues?
There are many ways you can get involved and accelerate treatments for PWS, here are just a few of them: