Podcast Transcript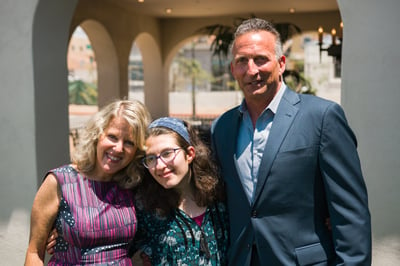 Susan Hedstrom:
Thank you for joining us on today's FPWR podcast! This is Susan Hedstrom, Executive Director for the Foundation and joining me today is Lauren Schwartz-Roth, one of FPWR's earliest board members, former FPWR board president and current member of the FPWR Research Team.
If you have a loved one with PWS, you likely recognize anxiety and mental health are life-long challenges that inhibit the quality of life for the person with PWS as well as the family. FPWR has prioritized research into behavior and mental health with the goal of finding interventions and treatments.
Lauren Schwartz Roth, clinical psychologist, and mom to Emma, who is now 19 with PWS, brings a unique skillset to FPWR in our search to understand and improve behavior and mental health in PWS.
Lauren, perhaps we could start with why you got involved with FPWR?
Lauren Schwartz Roth:
When Emma was diagnosed with Prader-Willi syndrome 19 years ago (at 5 weeks of age) my husband and I, who both have science backgrounds, started looking for the research. That was our "go to" strategy for addressing a challenge in our life. However when we went to the scientific literature we were surprised to find very little research about PWS particularly mechanisms underlying the symptoms and potential treatments. Additionally most of the stories out there from other families was very bleak in terms of the functioning and future for people with PWS. Granted this was when the internet was very young so it was not as easy to find information as it is now. After we took some time to wrap our minds and hearts around Emma's diagnosis — we set out to figure out what we could do to help her and we thought our highest and best use given our backgrounds, would be to try to focus on PWS research and do everything we could to create a better future for our beautiful baby girl, Emma. Then online-again internet early days – yahoo groups and all! — I found a few other warrior moms who also had children with PWS (Rachel Tugon, Theresa Strong, Alice Viroslav, Kathryn McGhee, Terri Schlange, Laurie Baskin) and they were starting a research foundation. So we hopped on board of the FPWR train (FYI initially the Foundation had a different name which was changed to FPWR in 2003). In 2004 I was asked to be Vice President of the Board and the rest is history. I was on the Board of Directors on and off from 2004 to 2016. In 2017 I officially joined the FPWR research team to focus on PWS Behavior & Mental Health Research Programs.
SH:
Your work with FPWR largely focuses on behavior and mental health for individuals with PWS. What has been your most challenging behavioral issue raising your daughter who has PWS?
LSR:
For my daughter Emma, it has been anxiety and rigidity. It seems that from a young age anxiety was a driving force affecting her every thought and behavior. It has elements of OCD but is not exactly OCD. I think of it as PWS variant of OCD. She worries about schedules, the food plan, what if things don't go the way she wants or has planned in her head, what if something gets canceled, etc. We call it "monkey brain" in our house, similar to the term in Buddhism "monkey mind" which refers to feeling unsettled, restless, agitated and becoming easily distracted by worries. Now that Emma is older she can better recognize (but not all the time!) when Monkey Brain is trying to take over and make problems for her. To calm monkey brain we use brief breathing exercises, writing down her worries and possible solutions, making lists and having a '20 second hug'. But sometimes there is nothing that can calm it.
SH:
You're on the faculty at the University of Washington Department of Rehabilitation Medicine working as a clinical psychologist, How has your 'day job' contributed to your effectiveness at FPWR?
LSR:
I feel really lucky in many ways. I have 3 or 4 (if you count being a mom) jobs and they are all very interesting, engaging. My work in one job informs my work in the others. At the University of Washington Medical Center I see patients and families who are struggling with acquired physical disabilities and chronic illness (such as brain injury, SCI, Multiple Sclerosis, cancer, and disabling genetic syndromes). My patients and their families teach me so much about what it is like to live with a disability and strive to have a full meaningful life. My clinical work helps me think about outcome measures, the "clinical meaningfulness" of interventions and what it means to for a treatment to make a real difference in someone's day to day life. I bring those insights to the research programs I am trying to develop and move forward at the FPWR.
One area I think a lot about from both a research and clinical perspective is the impact on the family. Families are in it for the long haul, day in and day out, and they are a life line for the person with a disability. Yet there is often not much focus on their well being and health. I think about the issues of caregiver burden and how caregivers can buffer the effects of this. I see that when caregivers are taking care of themselves how it actually benefits patients. I also have come to appreciate in real time with the families I work with what works for a busy tired caregiver and what does not. That has informed my work at FPWR quite a bit. I also find this idea of measuring caregiver burden as a supportive outcome measure for treatment interventions very intriguing. I look forward to exploring this further in my FPWR work.
SH:
In 2015, you put together a Mental Health Strategy workshop. This event brought together 45 of the top mental health researchers and clinicians from around the world with the goal of developing a strategy to move forward PWS specific research in behavior and mental health. What do you believe has been the greatest outcome of that meeting?
LSR:
It is exciting to see that there has been a lot of activity in this area in the few years since the workshop, with several research studies underway. A quick review of the PWS mental health and behavior literature shows 30 published articles since 2015 in key areas that were discussed during the workshop. Many of the authors of these papers were workshop participants. Additionally several of the researchers started collaborations at the workshop and are continuing to work on projects together that stemmed from those connections formed at the workshop. Our goal was to light a fire under the PWS mental health research area and I believe the workshop accomplished that goal.
Since the Workshop, new studies have been conducted to better define the risk of mental illness in PWS and the PWS Global Registry has taken off with over 200 families completing surveys about mental health and behavior (see blogs and info graphics from this data). Additionally several brain imaging studies have been done to look at neurobiology underlying mental health and behavior issues in PWS. I have also seen a big increase in the number of proposals we receive in the FPWR research grants program that focus on behavior and mental health issues in PWS at all levels, from mouse models to neurobiology to clinical/human studies. To me this reflects great progress and movement in the field!
SH:
Behavior and mental health in PWS are very challenging areas to research. Why is this?
LSR:
One challenge for research in mental health and behavior is that defining and measuring these internal states is very hard, and the symptoms tend to wax and wane. If you think about anxiety, someone may be highly anxious yet have few outward signs, and some days those internal symptoms are really severe and some days they are mild. For some mental health conditions the symptoms of the condition make it almost impossible for the person to accurately reflect on what they are feeling and tell you if they are better or worse. Many people, especially children and those with intellectual disability, are not great at consistently reporting their internal psychological states. All of these factors make doing this type of research a challenge. But I do love a challenge and the rewards of seeing people improve, feel more comfortable and enjoy more is worth the challenge.
SH:
What do you think needs to be done next in order to make a meaningful improvement in behavior and mental health in PWS?
LSR:
I think the answers to address mental health issues in PWS will most likely be a combination of behavioral strategies and medication. I also believe that there may not be one answer for every person with PWS and behavior challenges but rather sort of a menu approach with different combinations of treatments to address different symptoms that your child is having. This is similar to how we treat mental health and behavior challenges in the general population as well. I do think when it comes to psychosis which our population is at higher risk for, we are getting closer to understanding the genetic and biological drivers and hopefully soon with some of the projects going on currently and in the pipeline, we will learn how to identify the very early signs of mental illness so treatment can begin early or even prophylactically. This can help to minimize symptoms and further disability caused by mental illness.
SH:
You are working to facilitate several projects for FPWR this year. Tell us a little bit about them and why you are excited to be working on them.
LSR:
I am excited about several current projects focused on behavior issues in PWS. These include developing a portable mindfulness intervention for people with PWS focused on reducing temper outbursts and anxiety and another study examining a medication called Guanfacine to reduce symptoms of agitation, aggression and skin picking in PWS. Both of these studies have the potential of providing interventions for difficult behaviors in PWS that affect the quality of life both for the person with PWS and their family.
Dr. Jan Forester, who is a well known psychiatrist working in PWS for many decades, and her team are starting a study focused on reducing family stress. This is a 4 session online intervention to reduce stress and improve family function focused on dads of teens with PWS – this is the first study to focus on dads. There is one more project that is worth mentioning which is a PWS Mental Illness Guidebook. For this project I will be interviewing parents and PWS mental health experts to create a guidebook for the community focused on mental health challenges in PWS. For this project I will focus on family experiences with mental health symptoms and treatment to help develop an understanding of common features of the onset of psychosis and other serious mental health issues in PWS. The guidebook will also include information gathered from interviews with PWS mental health experts and data from the PWS Global Registry to bring in information and data from multiple sources to create a more comprehensive guidebook. This project is just getting started but I am very interested in gathering this information and creating this guidebook to help families navigate struggles with mental health challenges in their loved one.
Families can contact me via email if they are interesting in participating in this project.