Drug development is a long and costly process that can take up to 15 years and cost up to one billion dollars! In this 7-minute video, Dr. Theresa Strong discusses the stages of PWS Drug Development. Don't have time for the full presentation? We've captured the key points in the notes below.
Steps in the Drug Development Process
It can take up to 15 years and cost up to one billion dollars to bring a drug to market. The steps of drug discovery include:
Drug discovery

Pre-clinical Testing: to determine if the drug works in animals, has the effect that researchers want and is safe

Clinical trials in humans: take place over three phases with increasing numbers of participants

Food and Drug Administration (FDA) review

FDA approval

Post-marketing surveillance: involves a continuing review of safety data after the drug goes to market



Phases of Clinical Trials
One thing to keep in mind is that the three phases of clinical trials are not always completely linear.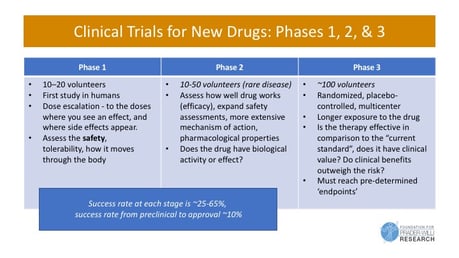 Phase 1
First human study

Small trial (10 to 20 people for an orphan drug population)

Short in duration

Conducted to make sure there no unexpected safety issues

Determines how does the drug interacts with the human body
Phase 2
Slightly larger population (10 to 50 people for a rare disease)

First look at efficacy

Looks at different dosing

Conducted to look for a biological activity or effect
Phase 3: Pivotal
'Pivotal Trial'

Larger studies (about 100 people for a rare disease)

Involves longer exposure to the drug

Researchers are looking for evidence that the drug is effective and better than what's currently available
In all three phases, you have to reach pre-determined endpoints. Before the trial, you have to tell the FDA what your drug is going to do and what effect it is going to have. The drug then must meet those standards in order to gain approval.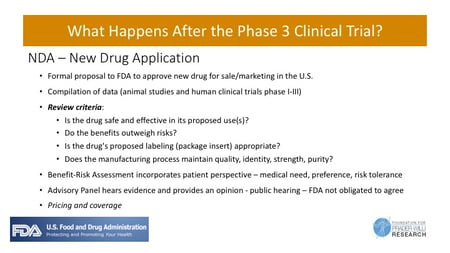 Gaining Drug Approval
Typically, after a phase 3 study the drug company will file an NDA (New Drug Application) with the FDA. This is a formal proposal to the FDA requesting approval of a new drug for sale/marketing in the U.S. Data from both pre-clinical testing and the human clinical trials will be reviewed and benefits and side effects will be analyzed. The FDA then reviews the information and weighs the benefits and risks and incorporates input of the patient community for consideration during the review process.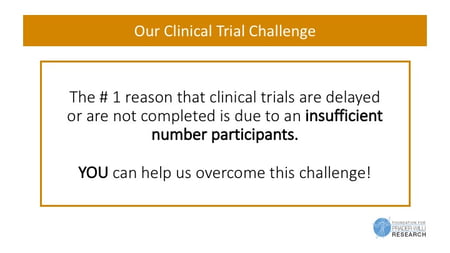 Today's Challenge
The #1 reason clinical trials are delayed or not completed is due to insufficient patient participation. You can help us overcome this challenge by reading information about the trials and making an informed decision about whether to participate. We share up to date information about current PWS clinical trials at www.fpwr.org/pwstrials where you can find a directory of clinical trials, a map of trial locations and trial specific webinars.
Not able to participate in a clinical trial? We need your help to establish a strong natural history of PWS! Please enroll in the Global PWS Registry or update your surveys today! www.pwsregistry.org
Protections for Study Participants
Many layers of protections are in place for participants of clinical trials.
The FDA
Reviews all information in the Investigational New Drug application and determines if the study can start
Reviews all serious adverse events over the course of the study, can place an immediate 'clinical hold' on the study if safety concerns arise
Study Investigator and team
Familiar with drug characteristics
Responsible for safety monitoring and reporting
Institutional Review Board (IRB) at the clinical trial site:
Review and approve / monitor biomedical research involving human subjects
Protect the rights of the research participants
Review and approve informed consent document
Data Safety Monitoring Board
Independent group of experts who review safety and efficacy data during trial
For updated information on PWS clinical trial opportunities and to sign up for a monthly PWS Clinical Trial Alert, visit the PWS Clinical Trials page.