Originally published in August 2020, this blog has been updated with significant new data.
The Global PWS Registry launched a survey this summer to capture the impact of COVID-19 on PWS families, and how our community is navigating this unprecedented time. The results reveal families' challenges, concerns, and successes in this unprecedented time. Two infographics have been released sharing data from this survey. The first — from August 2020 — highlighted some of the stresses that caregivers have been experiencing, and how school age children with PWS adjusted to distance learning. This month, new data was released highlighting changes in the main concerns of people with PWS, and addressing how access to medical care and therapies has been impacted at the height of COVID-19–related restrictions.
COVID Survey Shows Changes in Daily Life for PWS Families
COVID-19 has created changes in daily life for all of us: masks, social distancing, testing, quarantines and self-isolation after exposure, working from home, adjustments at school, changes to social interactions, and many more. There are some pros to our busy days slowing down, spending time with family, and developing a deeper appreciation for the things we miss. However, there are also numerous challenges, which can be even harder for families taking care of a loved one with special needs, and with PWS in particular. The results of this year's COVID-19 survey launched as part of the Global PWS Registry show the effects of COVID-19 as parents articulated them, first in August and then in November.
August: Everyday Stresses and Distance Learning
The first infographic shows responses from families in August 2020. It highlights some of the stresses caregivers reported experiencing, and how school age children with PWS adjusted to distance learning toward the end of the 2019–2020 school year: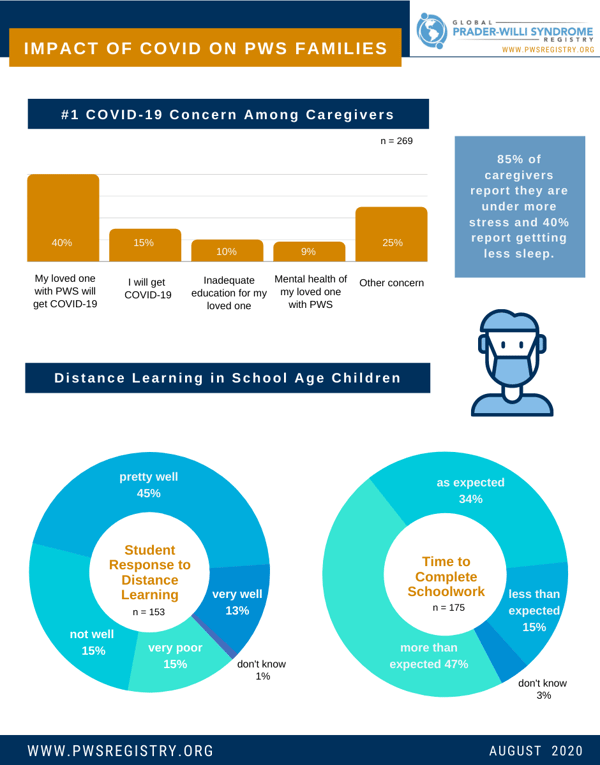 Not surprisingly, as of August, 85% of caregivers reported feeling more stressed, and 40% were getting less sleep. Only 10% of caregiver reported no change in stress, while 46% of caregivers reported no change in sleep. Caregivers reported having a wide range of concerns, including getting COVID themselves, their loved one getting COVID, impacts to education and quality of life, access to medical care and supports/therapies, finances, and other concerns. When asked to pick their number-one biggest concern, 40% of caregivers said they were most worried that their loved one with PWS would get COVID.
Decisions around what school would look like for the upcoming school year were being made at the time of the August survey. Almost all students had transitioned to some type of remote/distance learning for the end of the 2019–2020 school year. PWS families with school-age children were pretty evenly split in their experiences with distance learning at that time. 45% of parents said their child with PWS completed the necessary schoolwork and didn't have any issues. Another 13% indicated that their child even enjoyed distance learning and had a lot of success. At the other end of the spectrum, 30% of parents said that their child with PWS struggled at least some, if not all, of the time and was often frustrated. These differences in experience are also reflected in how long it took for school-age children with PWS to complete their assignments. Approximately half of families said assignments took more time than they expected.
November: Changes Overall and In Treatment Access
Survey responses as of November 2020 show some overall changes for PWS families in dealing with the pandemic: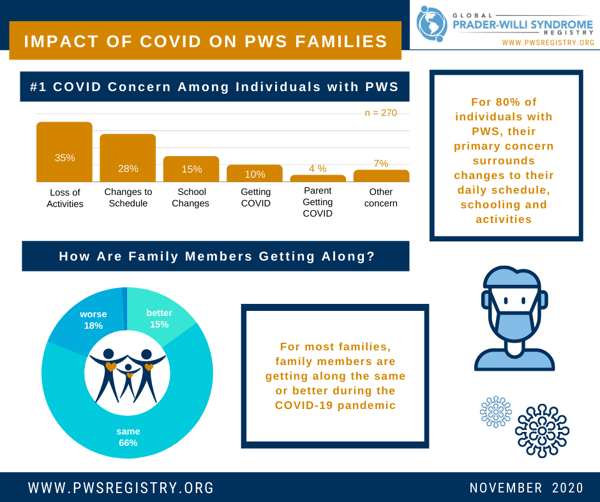 Interestingly, the primary concerns for the person with PWS were related to loss of activities (35%) and changes to daily schedules (28%). These concerns make sense considering that individual with PWS tend to prefer structure and set schedules. With all of the changes in schedules, many of us are at home with family more of the time.
It is wonderful to know that the majority of PWS families indicate that they are all getting along the same (66%), or even better (15%) than before the pandemic. For those families having a harder time getting along, there many resources for support. These include PWS parent groups online, as well as recordings of presentations from leading experts on PWS behavior, for example:
Caregivers expressed a lot of concern about access to therapies and health care during COVID-19 related restrictions and lockdowns: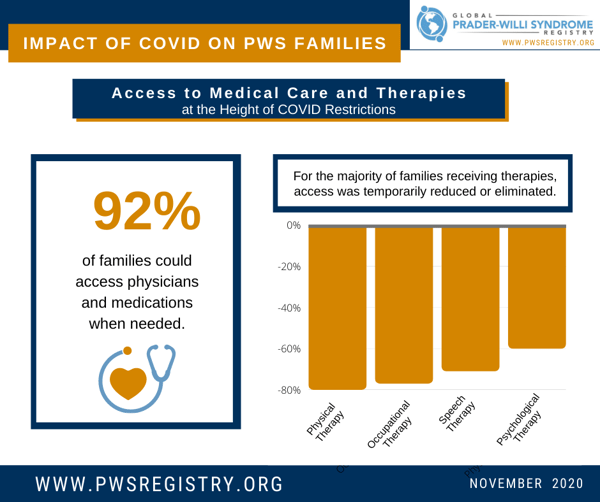 Importantly, 92% of families that needed medical care or medications during this time have been able to access what they required. Considering the broad scope of medical needs in the PWS community, it is reassuring to know that families have had continued access to medical care.
Unfortunately, COVID-19 related restrictions did temporarily impact access to physical, occupational, speech, and psychological therapies. For families receiving these therapies, there was a 60-80% decline in access, depending on the type of therapy. Speech therapy and mental health services were impacted the least, possibly because these types of therapy are more amenable to virtual, web-based appointments over the computer.
Thank you to those families who participated in this survey. The responses show us that while the COVID experience is definitely increasing stress levels among families with PWS, the reasons for that increased stress can vary a lot among families. Keep your eyes out for more infographics with data from the COVID survey in the coming months!
You can find more information about the Global PWS Registry on our website, or by visiting the registry at www.pwsregistry.org, where you can join or update your surveys. You may also email our registry administrator here.