The Global PWS Registry recently launched a survey to capture the impact of COVID-19 on PWS families. The results reveal families' challenges, concerns, and successes in this unprecedented time.
The global COVID-19 pandemic has brought many changes to daily life for all of us. There are some pros to our busy days slowing down, spending time with family, and developing a deeper appreciation for the things we miss. However, there are also numerous challenges, which can be even harder for families taking care of a loved one with special needs. The Global PWS Registry launched a survey over the summer to capture how PWS families are navigating this unprecedented time. The first infographic from the results of this survey highlights some of the stresses caregivers are experiencing, and how school age children with PWS adjusted to distance learning at the end of last school year.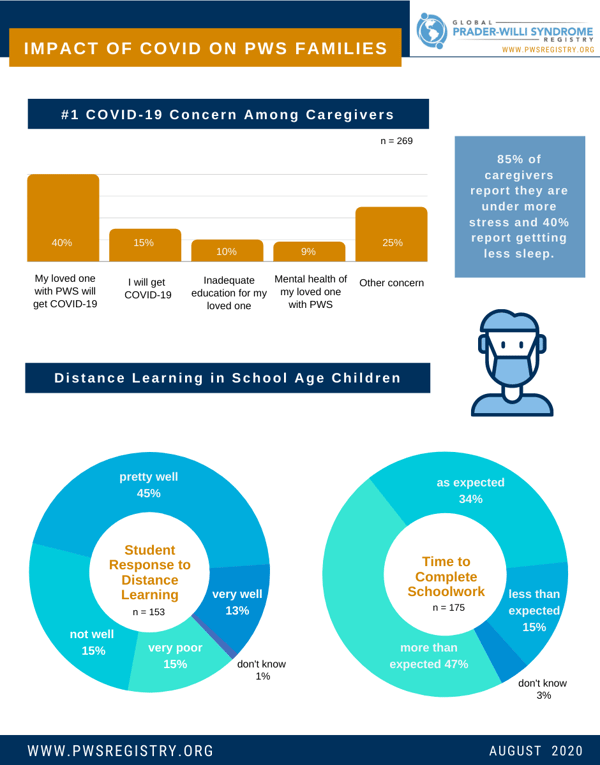 Not surprisingly, 85% of caregivers report feeling more stressed, and 40% are getting less sleep. Only 10% of caregiver reported no change in stress, while 46% of caregivers reported no change in sleep. Caregivers have a wide range of concerns during this time including getting COVID themselves, their loved one getting COVID, impacts to education and quality of life, access to medical care and supports/therapies, finances, and other concerns. Most families report being worried about many of the things above. However, when asked to pick their #1 biggest concern, 40% of caregivers are most worried that they will get COVID and not be able to care for their loved one with PWS.
Decisions around what school will look like for the upcoming school year are being made all around the world. Last spring, almost all students transitioned to some type of remote/distance learning for the end of the school year. PWS families with school age children were pretty evenly split in their experiences with distance learning. 45% of parents said their child with PWS completed the necessary schoolwork and didn't have any issues. Another 13% indicated that their child even enjoyed distance learning and had a lot of success. At the other end of the spectrum, 30% of parents said that their child with PWS struggled at least some, if not all, of the time and was often frustrated. These differences in experience are also reflected in how long it took for school age children with PWS to complete their assignments. Approximately half of families said assignments took more time than they expected.
Thank you to those families who participated in this survey. The responses show us that while the COVID experience is definitely increasing stress levels among families with PWS, the reasons for that increased stress can vary a lot among families. Keep your eyes out for more infographics with data from the COVID survey in the coming months!
You can find more information about the Global PWS Registry on our website, or by visiting the registry at www.pwsregistry.org, where you can join or update your surveys. You may also email our registry administrator here.