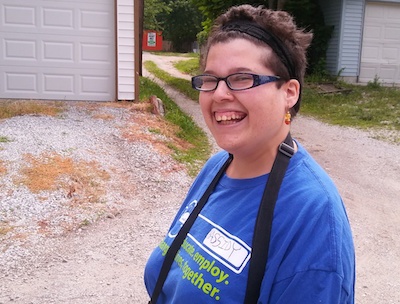 Children with PWS typically have growth hormone deficiency (GHD), and treating them with growth hormone has been shown to have beneficial effects on growth, body composition, motor function, and possibly cognitive development.
What many people don't know is that studies show promising results for growth hormone therapy for adults with PWS.
Testing for Growth Hormone Deficiency in Adulthood
While growth hormone therapy for children with PWS has been approved by the FDA since 2000 without the need for prior laboratory confirmation of GHD, the picture is somewhat different once PWS children attain adult height.
Guidelines recommend that adults with PWS should have an evaluation of the growth hormone / IGF axis to confirm GHD prior to growth hormone therapy. Unlike in children, where lack of linear growth is a good indicator of potential problems in the growth hormone / IGF-1 axis, adult GHD is harder to diagnose because a low growth hormone level is also part of the normal aging process. GHD is usually diagnosed using provocative agents that stimulate growth hormone secretion, but this method isn't perfect. Especially in the case of PWS, underlying obesity and the frequent presence of other hormonal imbalances can influence test results. Therefore, relying on provocative testing alone has the potential to exclude PWS patients who, based on these criteria may not be GHD, but may still benefit from growth hormone therapy in adulthood. Not surprisingly, there is a wide variation in GHD diagnosis in adult PWS patients — previous studies have shown that anywhere between 8-55% of PWS adults met criteria for severe GHD.
Clinical Picture of Growth Hormone Deficiency In Adults With PWS
Despite varied results in the biochemical diagnosis of GHD, the clinical picture of PWS adults is very similar to what would be expected with GHD. This includes increased fat mass, reduced muscle mass and lower bone mineral density, and an increased cardiovascular risk profile. In addition, obese PWS adults are reported to have a higher prevalence of metabolic syndrome compared with non-obese PWS adults.
Beneficial Effects of Growth Hormone Therapy In Adults With PWS
Studies suggest that treatment with growth hormone after attainment of adult height (a time when growth hormone therapy is typically ceased), may be beneficial in maintaining / improving many PWS symptoms. Although these studies are from limited numbers of patients, and mostly looked at short-term treatments, the results are promising.
A recently published study from the Netherlands including 27 young adults showed that young adults with PWS who had attained adult height benefited from continuation of growth hormone treatment for one year and maintained a favorable body composition. On the other hand, treatment with placebo resulted in increased fat mass and BMI. Similar improvements were also reported by other researchers.
Growth hormone is considered a diabetogenic hormone — a hormone that promotes the onset of diabetes in some situations, therefore the same group of scientists in the Netherlands also analyzed the effect of growth hormone treatment on metabolic syndrome (a collection of risk factors that could lead to diabetes and other related diseases) in these young adults. They found that although one-year treatment with GH resulted in slightly higher fasting glucose and insulin levels, none of the patients in the growth hormone group developed metabolic syndrome or type 2 diabetes while one patient in the placebo group did.
Other beneficial effects of growth hormone therapy in adults with PWS include improved quality of life, including anxiety and depression, after 1-2 years of therapy. In addition, it was reported that GH therapy increased physical activity and exercise capacity in adults with PWS after one year of therapy.
Potential Negative Consequences of Long-Term

Growth Hormone Therapy
Growth hormone therapy in adults is generally well tolerated. Edema, increased fasting glucose and possible increased insulin resistance are the most commonly seen adverse effects. An older study, which analyzed longer-term growth hormone treatments (average length 16 ±4 years), found that four out of ten adults studied developed diabetes. Three of these individuals had started GH treatment in adulthood while one had started it during childhood. The authors attributed this to poorly controlled diet and exercise, and this study included only a very small number of patients. Larger studies are needed to fully understand if this is an issue. Some additional studies on the effect of growth hormone therapy on the respiratory system and heart function in adults with PWS are also needed. Growth hormone has a good safety profile in the PWS population, and while excessive growth hormone / IGF-1 has been associated with increased risk of malignancy in the general population, it appears to be generally safe in PWS.
To avoid potential negative effects, growth hormone therapy for PWS patients is not recommended in cases of severe obesity, uncontrolled diabetes, severe obstructive sleep apnea, cancer and psychosis based on available guidelines. For adults, guidelines also recommend growth hormone dosing based on clinical response, age, and sex appropriate IGF-I levels in the 0 to +2 SD range.
FPWR's Effort To Advance

G

rowth Hormone Therapy In Adults With PWS
In summary, although current guidelines recommend provocative testing to diagnose GHD prior to growth hormone therapy in adults, this is widely variable and may not correctly reflect the number of adult PWS patients who are growth hormone deficient, or who may benefit from growth hormone therapy regardless of GHD diagnosis. Growth hormone therapy in adulthood is beneficial in maintaining body composition, BMI and fat mass in adults with PWS at least in the short term. Some additional studies to understand the potential negative consequences, if any, of long-term growth hormone therapy in PWS adults are needed.
Through its Clinical Care Program, FPWR aims to address this need by collaborating with an international group of PWS experts to set up a large, multicenter clinical study for adults with PWS to be treated with growth hormone or placebo. Assessments will likely include body composition, quality of life, metabolic health, endurance/fitness, and safety. We hope this effort will provide additional safety and efficacy data for growth hormone treatment of adults with PWS.
Learn more about the importance of growth hormone therapy for PWS.