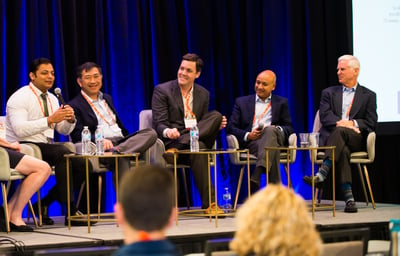 You won't want to miss these speakers at the 2020 FPWR Family Conference this October in Chicago, Illinois.
Inspiration, hope, people who get it — that's the 2020 FPWR Family Conference! You don't want to miss joining like-minded game-changers with direct access to the people, knowledge, and inspiration you need to help your child.
Hear the latest in PWS research from experts in the field and engage one-on-one with researchers who have a deep interest in finding treatments for our loved ones with PWS. Experts include:
Dr. Jessica Duis
Dr. Harold van Bosse
Patrice Carroll
Elizabeth Roof
and many more!
If you're a member of the PWS community, we have something for YOU because this conference is for YOU! The FPWR conference is for families of all ages— we have something for everyone! Highlighted sessions include:
| | | | |
| --- | --- | --- | --- |
| Children Ages 0-2 | Children School Age | All Ages | Research |
| New Diagnosis Pre Conference Session | The Orthopaedics of Prader-Willi Syndrome | Current Standards of Care- All Ages | PWS Clinical Trials Panel |
| Standard of Care for PWS for Children Ages 0-2 | Therapeutic Interventions | Self Care Workshop | The PWS Research Team Panel |
| Parent to Parent- Maximizing your Insurance Plan | Parent training- Social Function in People with PWS | Acceptance and Commitment Training Parent Intervention | PWS Researcher Fireside Chat |
| | | Behavior Strategies | |
With premier experts in their fields and the backdrop of Chicago this year's conference promises to be an event to remember! Register now during our St. Patrick's Day Sale going on March 1-17. Prices are being cut from $225 (regular price) to $175*. After that, tickets will go up to their regular price. This is our biggest sale of the year, and you will not want to miss it!
We have an amazing deal on rooms ($196/night) but they are limited, and you will only get the discount code after you register for conference! Register for the conference here.
We look forward to seeing you in Chicago!