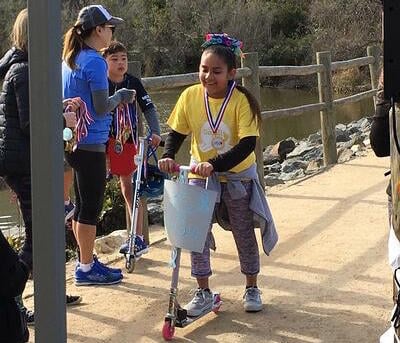 Community members from coast to coast are finding easy ways to make supporting PWS research FUN! A 1-mile kids race, a friendly kickball tournament, an uncle's bike ride across America, and an individual Ironman are just four examples of our community rising together to raise critical funds for PWS research while doing what they love!
A Simple & Fun Kids Race
Earlier this year, FPWR Executive Director Susan Hedstrom set out to show us just how easy hosting a One SMALL Step walk can be. With only 45 days to prepare, she secured the race location at a local park, and invited friends and family to participate in a 1-mile kids fun run.
"Like many of our supporters, I have to juggle my job, 3 kids and school schedules and sometimes it's a challenge to keep it all together!" said Susan, "I needed to put together an event that wouldn't take a lot of time to execute, yet would still be fun and raise funds for research. So I decided to host a kids fun-run in honor of my son's 10th birthday."
Susan's One SMALL Step walk included a 1-mile kids race with bikes and scooters, runners and walkers, and 'flair your ride' contest in which prizes were given for the most creatively flaired ride. Every child who completed the 1-mile race received a medal, and each attendee who raised or donated $40 received a free event t-shirt. The fundraiser was a success and required minimal planning, just the courage to get started and ask for support!
A Friendly Kickball Competition
PWS parents and research advocates Lisa and Mike Matasevac knew they wanted to raise funds for PWS research in their childhood hometown of Silver Creek, NY so they set out to create a unique fundraising event. The Matasevac's One SMALL Kick Kickball tournament is a fun annual event for their family, friends and local PWS community members, that ties together two of their passions: kickball and fundraising funds for research!
This annual event has had so much success that it has turned into a bi-annual fundraiser! Lisa and Mike decided to replicate the event in their current home of Atlanta, GA. Now they host two kickball tournaments every year to support PWS research, one in New York, and the other in Georgia!
"We didn't realize that hosting an event could be so much fun! Everyone has an amazing time." said Lisa. Between the 2 events, the Matasevac's have raised over $105,000 for PWS research since 2015!
An International Ironman
Mark's niece, Laila Kahn, was diagnosed with PWS at birth and is now "a beautiful 4 and a half year old princess" he says. "She has a wonderful support network of family, friends, teachers and specialists who help her navigate the challenges and live her life to the fullest."
In honor of Laila, Mark is taking his passion for athletic events and will be participating in the Bintan Ironnman 70.3 on the 25th of August 2019 and is raising funds for the critical research that is desperately needed to find a cure for they symptoms of PWS.
Support from a Family of Adventurers
An avid cyclist, Paul had an idea to take his passion for the outdoors and raise awareness, and funds for PWS research!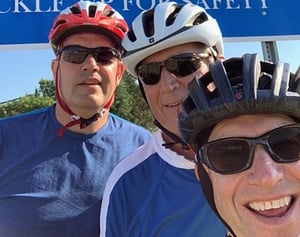 When Paul approached his family about his idea to ride his bike coast-to-coast in honor of his 14-year old nephew, MAXX, he found support for his 5-week adventure — and things moved pretty quickly from there.
On Wednesday, April 24th, 2019, "Uncle Paul," with the help of his family, started his ride and continued the 2,272 miles across the U.S. Along the way he handed out cards about PWS with information about how people could donate to support PWS research.
He met friendly faces all across the U.S. who supported him. His sister-in-law Gretchen Golub helped manage his Team FPWR fundraising website and update on social media, while Maxx's Uncle Bob also fundraised for the cause and rode a portion of the trip
In total, Paul was able to raise $10,000 through his epic adventure — thank you Uncle Paul!
To turn your own adventure into a fundraiser for PWS research, reach out to Sarah Peden or visit the FPWR Take Action page to get started!