UPDATE, July 2023: We are currently contracting with potential trial sites across the US and will announce sites as they become available. Our first sites could be available as early as August/September. If you would like to join our interest list for this study, please send an email to VNS@fpwr.org. Participants must be between the ages of 10 and 40 years.
Recent evidence from FPWR-supported studies show that Vagus Nerve Stimulation (VNS) may reduce temper outbursts and other disruptive behaviors in individuals with PWS. With your support, FPWR is taking the steps needed to advance a clinical trial of a VNS device with the aim of making this treatment available for our loved ones with PWS.
Temper outbursts and disruptive behaviors are among the most challenging aspects of PWS, both for the individual with PWS and their family. Affecting between 60 to 80% of people with PWS, temper outbursts are a major cause of family stress and have a detrimental effect on the quality of life of both the person with PWS and their family.
VNS uses brief electrical impulses to stimulate areas of the brain that are important for controlling emotions and behavior. VNS has been approved by the FDA to treat epilepsy and chronic recurrent depression. Now, new evidence supports the use of VNS to reduce temper outbursts and improve disruptive behaviors in individuals with PWS. The approach has been studied in a small number of PWS individuals in the U.K. with a significant reduction in both the number and severity of temper outbursts.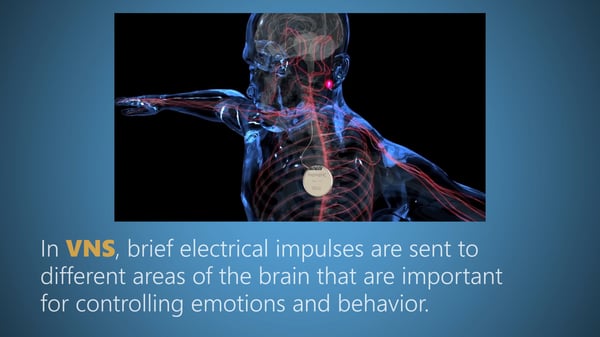 VNS was safe and effective in two small clinical trials in the U.K.
The potential benefits of VNS in people with PWS were first demonstrated using a surgically implanted VNS device in three adults with PWS. While no effects on hyperphagia or weight were observed, improvements in temper outbursts were seen in two of three adult participants. The participant who showed no improvement did not have a prior history of temper outbursts. The two participants whose behavior improved asked to continue with the VNS after the study finished, and in an informal follow-up eight years later both individuals reported continuing benefits and no unexpected side effects. In one participant, the problem behaviors had recently returned to pre-VNS levels. It was subsequently discovered that the battery of the VNS had run out.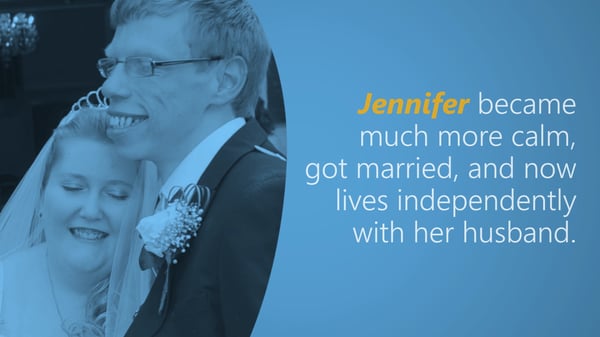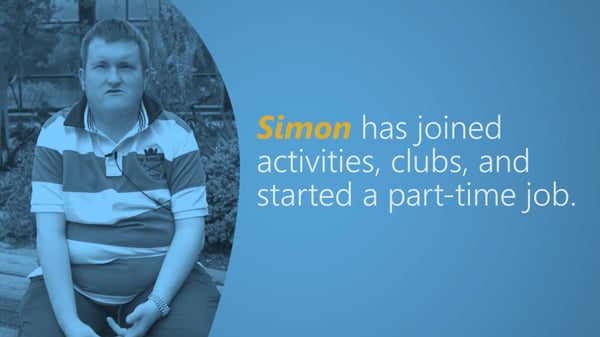 A second clinical trial using transcutaneous vagus nerve stimulation (t-VNS) has also shown efficacy. The external device was worn for four hours each day with an electrode in the left ear to stimulate the auricular branch of the vagus nerve. Temper outbursts improved significantly in 4 out of 5 participants after six to nine months of t-VNS. Significant reductions in the number of temper outbursts were observed to the extent that they had no outbursts or, at the most, the occasional very minor outburst. Reductions in scores on the Challenging Behavior Inventory (CBI) and improvements on global outcome scales were also noted. Qualitative informant interviews described the participants as showing improved cognitive flexibility and ability to control emotions, and an increased ability to manage unexpected change. No significant side effects were observed.
Next Steps: Bringing VNS to our PWS Community
FPWR is preparing to launch a multi-center VNS clinical trial in the U.S. this year with the aim of making this device available for our loved ones with PWS. The trial will enroll approximately 50 participants, ages 10 to 40, with a confirmed diagnosis of PWS and a history of behavior outbursts. Study participants will wear the t-VNS device daily for the duration of the study and a parent or caregiver will provide daily behavior data through an online trial application. Study results will be used to establish VNS as a treatment for temper outbursts in PWS.

Learn more about VNS for PWS in this recorded webinar with Drs. Theresa Strong, Lauren Schwartz, and Tony Holland.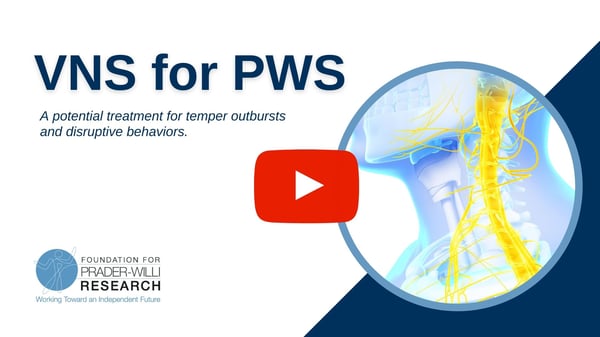 We need your help to fund the VNS for PWS clinical trial!
With an anticipated budget of nearly $1,000,000, the VNS for PWS clinical trial will be FPWR's largest single investment to date and it could also be our most impactful. Funds are currently being raised to support the execution of this study. Your support is imperative to our success! Donate today, or create your own personal fundraising page to support this clinical trial!
Questions? Please contact Susan Hedstrom
Susan.Hedstrom@fpwr.org