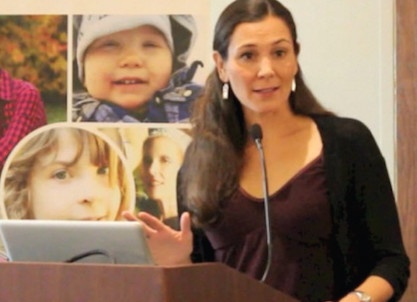 Feeding difficulties are common in young children with Prader-Willi syndrome, and it's common for parents to struggle with feeding children with PWS. Many parents seek nutrition advice to help implement a healthy diet, and over the past 12 years, hundreds have consulted with Melanie Silverman (RD) regarding diet and nutrition for their child with Prader-Willi syndrome. This October, Melanie Silverman will be presenting at our FPWR annual conference, Action Changes Tomorrow, and providing our parents of infants and toddlers with an intimate Q&A session regarding feeding the young child with PWS!

Melanie Silverman (www.melaniesilverman.com) is a pediatric registered dietitian nutritionist (RD) and board certified lactation consultant (IBCLC). She is also Chief Clinical Officer for a start-up called Pacify. At the beginning of her career, she spent seven years as a clinical dietitian at The University of Chicago Medical Center working in neonatal and pediatric intensive care units and then transitioned to her private practice. Melanie currently specializes in picky eating, food allergies, failure to thrive, obesity, vegetarians/vegans, eating disorders, Celiac Disease, tube feedings, and Prader-Willi Syndrome. She has presented at numerous meetings in the United States and Canada on Prader-Willi Syndrome and is truly honored be able to present again at the FPWR conference.

"For the last 10 years I have worked with patients with Prader-Willi Syndrome," writes Melanie on her website. "These families are some of the most amazing and determined I have met. Prader-Willi Syndrome is nutritionally complex, but there is hope. Learning as much as you can about the diagnosis helps better manage the syndrome for years to come."

At the conference, Melanie will be joined by experts in the fields of education, neurology, genetics and psychology. The two-day program includes presentations by top PWS researchers in the world, updates from current PWS clinical trials, and more!

You wont want to miss our annual Clinical Trials Panel which will provide the latest information on PWS clinical trials with presentations about new investigational drugs for children and adults with PWS. Learn more about the current and upcoming opportunities and the impact they may have on your family. Presentations will be followed by an informative and interactive question and answer panel where clinical trial representatives will answer all your trial questions.

Join us October 28-30, 2016.

Note: Watch the Optimal Nutrition In PWS presentation on video here!