Dr. Sebastien Bouret at Children's Hospital Los Angeles is interested in how levels of hormones that regulate appetite impact brain function. Specifically, his group is exploring how levels of these hormones early in life influence brain development and ultimately impact appetite regulation and metabolic health in adulthood.
His lab works on this question as it relates to typically developing individuals, and, with FPWR support, in individuals with PWS. In work recently published in the highly regarded Journal of Clinical Investigation, Dr. Bouret's group shows that abnormal levels of circulating ghrelin during the newborn period negatively impacts hypothalamic brain development, setting the groundwork that leads to abnormal appetite regulation and obesity in adulthood.
Read More on the FPWR Research Blog.
Whether you have attended or hosted an event or are new to our community, we encourage you to take
One Small Step with us this year! Event hosts are given every resource to make the experience as easy as possible: step-by-step fundraising guides, event planning checklists, your very own fundraising site and access to FPWR staff every step of the way! Over the past 5 years One SMALL Step has grown from raising $250,000 to $1,500,000 a year, becoming the Foundation's primary revenue source for funding cutting edge research and allowing FPWR to greatly expand our research programs. FPWR has become the largest PWS Research funding source in the world - and this is a direct result of your One SMALL Step fundraising efforts! Not quite ready to host a walk? You can create your own fundraising page to support the OSS walk nearest you.
Click here to search the list of events registered in the United States.

"The enjoyment that I receive from the OSS event in San Antonio has many facets. First, I am always humbled by the generosity of our donors. Second the event acts as reminder to my family that we are not alone in this challenge to improve the lives of people afflicted with PWS. Thirdly, as a dad it has allowed me to show all my children that they can always make a difference in someone's life. Participation in worthwhile causes whether big or small has its inherent rewards." - Dr. Sergio Viroslav, 2014 Top OSS Fundraiser and host of OSS San Antonio, TX
Collaboration is Key to Accelerating Research
FPWR is committed to facilitating collaboration in order to accelerate PWS research.
An ongoing priority of FPWR is encouraging collaboration to accelerate research. In March we will be hosting the first PWS Mental Health Workshop. The world's best experts in the field of Mental Health will be in attendance with the purpose of strategizing and prioritizing research to solve the many mental health challenges our children face: OCD behaviors, perseveration, rigid thinking, psychosis, etc. The response to participate in this workshop has been overwhelming and we look forward to welcoming
participants from leading institutions including the UCLA Brain Research Institute, John Hopkins University, the MIND Institute at UC Davis, University of Sydney, Vanderbilt University, Indiana University, University of Cambridge and the National Institute of Mental Health. The workshop will be led by FPWR founding board members Dr. Theresa Strong and Dr. Lauren Schwartz Roth. We look forward to sharing the exciting results next month!
FPWR Annual Conference: It Starts With Us

You will not want to miss this educational and empowering event! Parents, caregivers and medical professionals are invited to learn the latest in PWS research while meeting others in the PWS community. The two day program includes presentations by
Dr. Jennifer Miller, Dr. Jeffrey Zigman and Elizabeth Roof,
experts in relevant therapies, and a second day dedicated to clinical trials information! Click here for more details.
Thank You 2014 Leadership Circle Donors!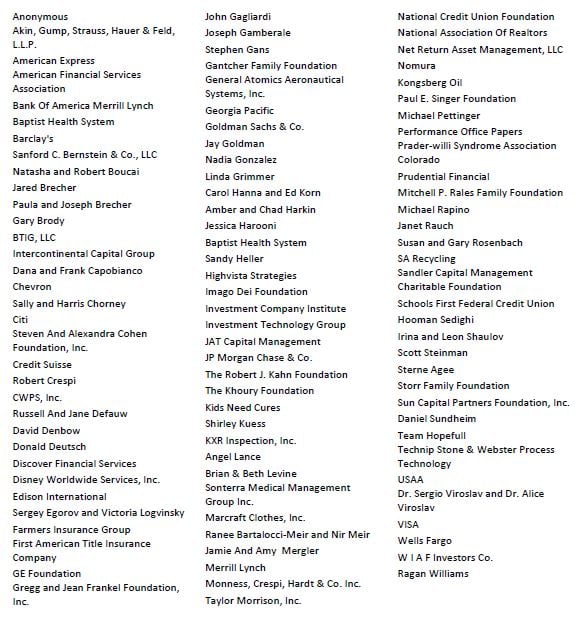 Its time to Take One SMALL Step!