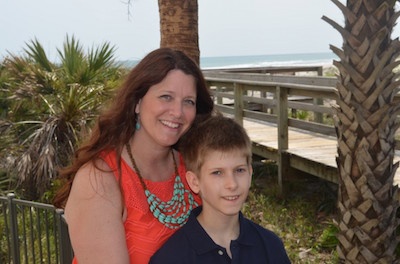 FPWR is happy to announce that Lisa Matesevac has joined our team as our coordinator for the PATH for PWS Study, facilitating families' involvement in the study. PATH for PWS will help us understand the medical complications that people with PWS experience, and what factors can decrease or increase their risk.
On a Path Together
A pediatric audiologist, Lisa says she is excited to bring her medical experience to this new realm and has always found patient interactions to be the most rewarding part of her job. "I believe that providing caregivers with the tools to make informed decisions allows them to feel empowered and gives them hope for the future of their loved one," she says.
The new position is also an opportunity for Lisa to work more extensively with FPWR. Lisa has hosted multiple One SMALL Step events and has served as an FPWR Advocate Reviewer and on the Clinical Care Advisory Board. She says her commitment to FPWR is professional as well as personal, as she has a 12-year-old son with PWS.
"In my new role as PATH for PWS Coordinator, I will strive to apply the same patient interaction principles I have pursued throughout my career so that families like mine can feel informed and empowered, too," she says.
About Lisa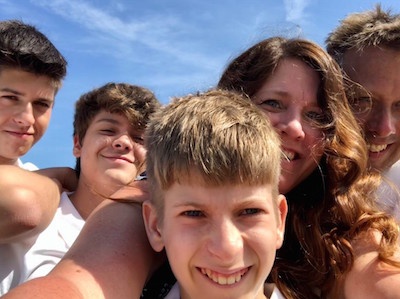 Lisa was born and raised in Buffalo, NY. Growing up with a younger brother who has severe hearing loss inspired her career in pediatric audiology. She attended Buffalo State College for her undergraduate degree in Communication Sciences and Disorders and the University of Buffalo for her Master's degree in Audiology.
In 1997, she moved to Atlanta to serve as Director of Audiology for a large pediatric ENT practice. Here, she worked for over 20 years and was dedicated to helping families understand communication options and hearing technology and navigate school support services. "I experienced a profound sense of joy watching these children grow into successful young adults because of the love, support and dedication of their families," she says.
Lisa returned to school in 2006. That was the same year her third son was born and was diagnosed with PWS. After a hectic first year, she graduated in 2008 with her Doctorate in Audiology.
Lisa and her husband Michael have been married for 23 years and have two older sons, ages 19 and 16. Their oldest is a freshman at Georgia Tech majoring in Biomedical Engineering, and their middle son has similar interests and hopes to follow in his older brother's footsteps. Their youngest, now 12, earned his first degree black belt in Tae Kwon Do this year. "We couldn't be more proud of his accomplishment!" she says.
More About PATH for PWS
PATH for PWS stands for Paving the way for Advances in Treatments and Health for PWS. It is a longitudinal natural history study documenting serious medical events in people with PWS five years of age or older, with the goal to inform development and clinical trial design for potential new treatments in PWS.
Throughout the four-year study, caregivers of people will PWS will be asked to provide updates every six months. This will result in insights into how PWS changes over time. The study will involve more than 500 participants and is a collaboration between FPWR and Zafgen, a clinical-stage biopharmaceutical company focused on transformative therapies for metabolic diseases.
Contact Lisa to Enroll In PATH for PWS
The PATH for PWS study is now open for enrollment and recruitment, and Lisa is available to answer questions or guide families through the application process. If you have any questions about the study, please email Lisa.
You can also learn more about the study in our blog post or at the PATH for PWS website.
To learn about all of the PWS clinical trials going on across the country, visit our PWS Clinical Trials page.