A special contribution by guest blogger Amber Rector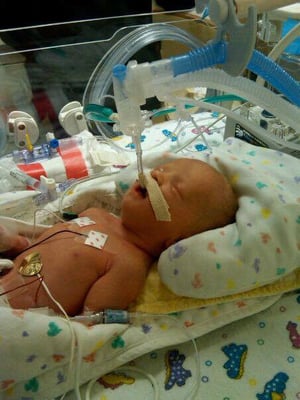 The day I found out I was pregnant, I imagined myself carrying to term, pushing out a healthy baby and going home the standard two to three days later. I would arrive home with my new bundle of joy, and we would adjust to life as a family of three. My complaints would focus on sleep deprivation and diaper blow-outs.
None of that happened.
Jae came into this world two months early via emergency C-section. She was rushed to the NICU, and I did not get to see her for hours. None of this was our plan nor how I imagined my transition to life as a mom would be, but it was our story, and it was just the beginning. Jae spent the first 57 days of her life in the NICU. She was very sick and needed a lot of support. She could not eat. She did not cry. She rarely even woke up. I would hold her, and my mind would run wild thinking about her future. I had convinced myself that since all of my pregnancy and delivery plans had gone astray, things from here on out would be a breeze. Again, I was mistaken.
Jae was sent home with a feeding tube, on oxygen and heart monitors, and with a very lengthy list of specialists and appointments. We still had no diagnosis. We were repeatedly told that her struggles were related to her being so premature and being so sick at birth. Tucked into that list of upcoming appointments with varying medical specialists and therapists was an appointment with a geneticist. That's where our Prader-Willi syndrome story begins.
We received the phone call on Wednesday, August 25th, 2010. The person on the other end said the lab results were in, and they were abnormal. We would have to go back and see the geneticist again. A lot of the next few weeks and months are a blur. There were so many evaluations. So many therapies. So many offices, and appointments, and faces...everything ran together. But I remember that phone call, and I remember the following visit at the geneticist's office. The call came on a Wednesday, and we were back in her office on a Friday.
We sat across the desk from the doctor, Jae in her infant carrier on the floor between us, asleep. That's all she did in the beginning: sleep. The doctor showed us papers full of numbers, abbreviations, and big words. There it was, right there in the middle of the page: "This result is consistent with the diagnosis of Prader-Willi syndrome." Nothing makes it more real than the words staring back at you. The doctor followed this up with a grim layout of Jae's future.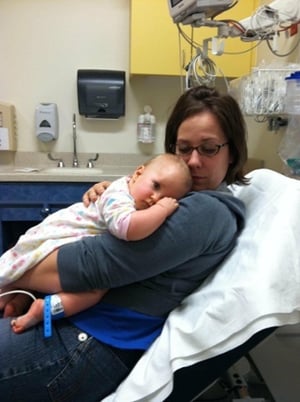 She told us Jae would never run track in high school.
She told us Jae would never go to college.
She told us Jae would never live independently.
Jae will never feel full.
Jae will always feel hungry.
Always.
She told us she wanted us to have "realistic expectations."
We left the office feeling empty, weighed down, and scared out of our minds.
Fast forward through the next six and a half years. We have had many ups and downs. We moved across the country, and we worked hard to find ourselves as a family and adjust to our role as special needs parents. Jason and I always felt strongly that we needed a community to bond with. It was important for us to take this new challenge and write a different future for our daughter, a future different than the one I had imagined for her. A future different than the one the geneticist had laid out. A future that truly belonged to Jae, one that Jae would mold and make her own. Right about that time, we heard about an organization that gave you the opportunity to give back to the PWS community by supporting research; this research could help eliminate Jae's struggles and give her the best chance to write her own story. That is when we reached out to the Foundation for Prader-Willi Research.
Connecting with FPWR has been a game changer for us. The response we got back was welcoming, encouraging, and supportive. They didn't just want us to raise money for them; they wanted us to be a part of their mission. We signed up to host our first One SMALL Step event in 2012 and have since become regular One SMALL Step hosts. We have met some amazing people and formed unbreakable friendships. FPWR has been such a crucial part of our growth because they have offered us so many opportunities to not only network with other PWS families, but to truly give back to the PWS world. Being able to make a difference and be so involved in the Prader-Willi syndrome community, and really being able to be active and supportive of the life-changing breakthroughs coming from research, has changed those feelings we carried around in the early days.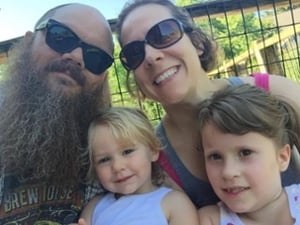 While I still remember the words the doctor spoke, and the sting I felt as she said them, I look back and wish she would have told me all of the other things Jae will never do.
I wish she would have told me that Jae never gives up.
Jae never meets a challenge she isn't willing to face.
My daughter never stops smiling, and she never misses the opportunity to make another person smile along with her.
Jae never fails to find joy in the day-to-day routine, and she never fails to motivate me to work harder, smile bigger, and see clearer.
Jae will write her own story and, no doubt, it will be a beautiful one. She has already done such big things in her short time here, things far greater than she knows and far bigger than I could have ever imagined in those early days. My mind still wanders, and I still think of her future often. These days, though, those thoughts are filled more with feelings of optimism and hope than the early feelings of fear and emptiness.

Do you have a story of hope to share with others about your experiences with PWS? Send it to us!