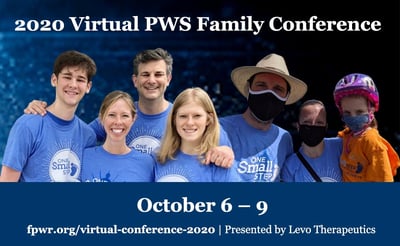 The FPWR Family Conference takes place October 6-9, and this year, it's virtual and free. Here are the top 10 reasons you need to be there!
10. No Need to Travel
While it's great to connect in person, this year there's no need to deal with the hassle and logistics of traveling away from home. You can get all the useful information and updates on PWS research, treatment, and more just by registering for sessions and joining online! Session start and end times are planned with all US time zones in mind.
9. Empowerment
Having a child with PWS changes who we are. But that doesn't mean we can't rise stronger and more hopeful for a better future. Coming to an FPWR conference is a first step to taking control of your future with PWS.
8. Direct Access to Current Information About PWS
Nowhere else in the world will you get to hear from experts such as Lauren Schwartz-Roth, Elizabeth Roof, Dr. Harold van Bosse and other leading PWS researchers and experts all in one place. Find out what groundbreaking research is being done in the PWS world, straight from the researchers themselves!
7. Meet the Experts
Time will be reserved at the end of each presentation for Q&A, so come prepared to ask questions of the presenter! You get the chance to ask your questions and get personalized advice for your loved one without even leaving home!
6. Educate Your Loved Ones
Research is hard to understand sometimes. But, when you have the experts at your disposal, you can ask the questions you need and then educate everyone you know about up-to-date PWS treatments, clinical care, research and statistics. Also, don't miss the Research Symposium Sept. 30 – Oct. 1 — parents get a discount.
5. Make New Friends
While we can't all be in the same place physically, this conference will give you a rare opportunity to hear from other parents who have a child with Prader-Willi Syndrome. There's a special session for parents who have received the PWS diagnosis within the last 24 months to connect with each other. And each session has a Q&A portion where you can learn from parents who are on this same journey. Lifelong friendships are made at every conference, and we expect 2020 to be no exception.
4. It's Free
No need to pay for travel, lodgings, or conference registration. This year, registration for all sessions in the Virtual PWS Family Conference is free! Save your spot by registering online for each of the sessions you want to attend.
3. Get Help With Behavior
Join in a fireside chat with our PWS behavior experts, Elizabeth Roof, Anastasia Dimitropoulos, Louise Gallagher, and Lauren Schwartz-Roth as they discuss what we know about social skills and social cognition challenges in PWS and what we can do to address these issues so our kids can be more successful.
2. Grandparents Connect
This year features a special session where grandparents and extended family members can learn how to support their loved ones with PWS while connecting with others doing the same.
1. Get Involved
Have you ever wondered how to get involved with FPWR or wanted to be an advocate in your area for PWS research? The Take Action for PWS Research session will get you connected to some of the most passionate PWS parents. You'll be welcomed with open arms to join our community and help change the world of PWS!
Register now to save your spot at the sessions you want to attend. Learn more and register here!