Researcher Rachel Wevrick goes far beyond the call of duty in her dedication to finding answers for Prader-Willi Syndrome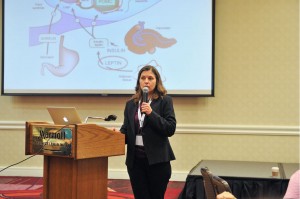 We are lucky to belong to a strong and cohesive PWS community that achieves great things! While a large part of our community is built on the determination and strength of families and friends of those with PWS, we would like to highlight one individual who has no familial connection to PWS, yet has chosen to become such an essential part of our PWS family. Rachel Wevrick lives in Edmonton, Alberta with her husband, Joe Casey, and their two children. She and her husband are both professors at b'University of Alberta. But why is she so important to our community?
Dr. Wevrick became involved with PWS in 1993. After she completed her Ph.D. at University of Toronto and her Postdoctoral Fellowship at Hospital for Sick Children, Dr. Wevrick went to California to work with Dr. Uta Francke at Stanford University to perform research on human genetics. Dr. Francke was researching a number of genetic disorders, but one stood out among the rest because of the lack of information: Prader-Willi Syndrome. For the next three years, Dr. Wevrick made PWS her focus. Then in 1996, it was time for Rachel and her husband to make a move back North, but this time to Edmonton, Alberta where they took on their positions at University of Alberta. Dr. Wevrick continued to conduct her research on PWS after moving to Edmonton and has been funded by FPWR on three separate projects. The most recent project being funded by FPWR is her study of Leptin dysregulation in control mice and mice lacking the gene Magel2. This study can potentially find a treatment that can regulate hunger by helping their bodies regulate Leptin. More information about this exciting project can be found on the FPWR website. https://www.fpwr.org/grant/2012/development-leptindysregulation-mouse-model-obesity-pws
Dr. Wevrick has presented at numerous conferences to speak about her animal models. She has been reviewing grants for FPWR and PWSA for the last 10-15 years. When asked why she does this, she answered, "I enjoy doing it–it helps me write better proposals, I can learn who is doing what, and I can provide expertise to make sure funding dollars are spent on projects with high likelihood of success and that answer questions that are important for further understanding PWS."
Dr. Wevrick will be working with Theresa Strong to lead the research portion of the IPWSO conference in 2016. Their goal is to make it an interactive workshop, where they don't just discuss what they have already done, but propose a strategic plan for future research to be done. She is extremely excited to be involved in this.
Tireless and driven, Jennifer Bender will not rest until the challenges of Prader-Willi Syndrome have been eliminated!
Whether you've just recently received your child's diagnosis of PWS or not, we can all agree those first moments are devastating and overwhelming. We've all been in that moment where we just wanted to stay in bed and cry all day and Jen Bender wasn't excluded from this. About two years ago, when she received Leah's diagnosis, she was equally overwhelmed, devastated–especially being in all the general forums where parents of older children were discussing their children's current stages of development. She was completely overwhelmed with problems she may or may not encounter years down the line.
Jen decided to create a safe haven, where parents of infants and toddlers ages 0-2 years would be able to discuss their current stages of issues and developments in a private Facebook forum. Here, parents who have received a new diagnosis are able to receive the support they need without bearing on the weight of all the symptoms of PWS that are scattered on such a spectrum. Parents can connect with other parents of children with similar ages and share their PWS concerns and feats privately among their peers. This safe haven has been a major support system and has provided peace of mind for many parents dealing with the early stages of PWS. Jen's involvement in the PWS community isn't purely on social media. She has volunteered at several FPWR events including the FPWR research conference and proudly holds the title of Vice President of the Prader-Willi Syndrome Association of the Pennsylvania Chapter. She is also the Chair of our New Parents Committee, which is currently developing a hopeful and informative new parent packate to send out to parents of newly-diagnosed children. Her goal is to help families eliminate worry and heartache through support and education.
In addition to her involvement with PWS organizations, Jen has also hosted a wide variety of fundraisers for PWS. She has held Thirty-One parties, a Chinese auction, Dine to Donate functions, a miniature golf outing, airline ticket raffling, and she also hosted a One Small Step walk last year. Her One Small Step walk, alone, raised an impressive amount of $43,000!!
It goes without saying that Jen Bender is obviously a mom that would go above and beyond for her daughter, but she is also someone who channels all her grief and heartache into doing everything she can to make sure families can avoid those feelings. She highlights the greatest thing about this organization: FPWR is an organization made up of people who care to make a difference, people who know that the future is what we make of it. On behalf of all the newly-diagnosed families, thank you, Jen for making the first years so much easier than it would have been!
Elizabeth Roof: Leading the Way in Behavioral Intervention
Senior Research Specialist, Elizabeth Roof from the Vanderbilt Kennedy Center is well known and revered by many in the PWS community. While specializing in psychiatric and behavioral development in people with developmental delays, she has a special place in her heart for people with Prader-Willi Syndrome
Beginning her career as a teacher, she found herself drawn to children who struggled with significant behavior problems. The more issues a child had, the more interested she was. She decided to change careers and studied clinical psychology, eventually researching psychiatric features and behaviors of people with developmental delays.
Elizabeth has a passion for her patients with PWS. While textbooks suggest there is a clear cut timeline for when children with PWS reach certain stages of hunger and behaviors, a deeper look has shown that it varies from child to child and person to person. Behavior is related to family factors, medications, and behavioral intervention. Extensive experience in PWS has helped her see that some children are being psychologically and behaviorally misdiagnosed. She says that symptoms do not equal diagnosis. Intervention can be implemented to change certain behaviors in PWS.
Hopeful about the future for PWS, Elizabeth sees promise in future medications that will treat hunger, food issues, and behaviors in PWS. Elizabeth believes intervention done at earlier ages can prevent many of the issues that are part of PWS and is hopeful that people with PWS can have a better quality of life, and maybe, one day, even independence.
Elizabeth Roof stresses the importance of parents participating in the upcoming Global PWS Registry: "The Registry will help guide research by allowing researchers to know what the PWS community wants studied about their children. If anyone wants to further research, people need to participate, and it's important to realize that people who participate in the registry get to be a part of the intervention earlier."
Elizabeth Roof's top piece of advice for parents is behavioral intervention should start early; it should begin as soon as the child begins taking in the world around them. It's important to reinforce good behavior from an early age. Adults often tend to do two things: First, they tend to ignore good behavior and instead focus on bad behavior. Secondly, they often don't set up expectations about how they want their child to act in all settings. It is important to reward good behavior because it helps children understand what you expect from them. For example, parents can say, "When we go to John's house, you will share nicely and talk in your grown up voice, so that you and John will have a fun play date". If you decide that you can't do that, we will have to leave and come home early. I know you want to have fun with John, so I am sure that won't happen, aren't you? "
Rachel Hansen: Breaking Barriers
It's no secret that FPWR is an organization that is recognized internationally. This doesn't happen without the efforts of amazing parents around the world who choose to be proactive and spread awareness; parents like Rachel Hansen.
Rachel who is originally from San Diego lives in Paris, France with her husband and two children, Elias and Pablo. Their beautiful 5-year-old son with Prader-Willi Syndrome, Pablo, has given Rachel the inspiration to raise awareness in France. When she learned of Pablo's diagnosis at two weeks old, she dealt with the initial shock and immediately began to research the syndrome and reached out for support. It didn't take her very long to dive right in and become an active member of the PWS community. After attending her first One SMALL Step walk in San Diego, she began planning to host her own walk in Paris.
Rachel has been a huge asset in sharing information with our French speaking parents. Rachel attended her first FPWR conference in 2009 as a delegate of Prader-Willi France and brought a wealth of information back to the French organization. She has also reached out to French-speaking parents to help her translate the One SMALL Step website so it could serve as a resource for PWS parents in France. The walk locations are growing in France thanks to Rachel and her awareness campaign. Despite the challenges of fundraising in France where there is far more skepticism, she has gotten the French to recognize our organization, and now many of them are thrilled to help! The t-shirts in France even read "Un PETIT Pas" now! Rachel met another amazing parent, Caroline Richard (mother to twin boys, both with PWS), and they are now planning the third walk in Paris together! The walk locations have increased from one to FIVE locations, PLUS a virtual walk!! Thank you for ALL your hard work, Rachel!
Jeannine Kowal: Pushing the Limits
By Yinna Ng, FPWR volunteer
Having a child with Prader-Willi Syndrome can push you to do many things you never imagined yourself doing. Many have started eating healthier, exercising more, counting calories, cutting out foods that used to be a part of our daily diet. Many have become quite knowledgeable in certain medical issues, medications, insurance policies. Many become experts in physical therapy, speech therapy, occupational therapy. Some have become AMAZING fundraisers.
Jeannine Kowal wasn't always an avid fundraiser. When her daughter, Caitlin, was born 3 years ago she made it her mission to raise as much funding as needed to find a cure for Prader-Willi Syndrome and co-founded the Prader-Willi Angels as her vehicle to do so. The past two years the Prader-Willi Angels gala has raised over $100,000 to support two exciting research opportunities. But she doesn't plan to stop there. She is already planning her third Gala for September 2014.
Jeannine humbly attributes much of her fundraising success to the knowledgeable and experienced people of Los Angeles that have been able to guide her along the way. When asked what message she would like to give potential fundraisers (those who are too overwhelmed by fundraising), she said this, "Fundraising can be very stressful but the positive aspect of fundraising is that it is a learning process and it gets easier every year. I would suggest that with any fundraising endeavor, you get help. Dividing the labor and the responsibility will not only alleviate stress it will take some of the pressure of performance off."
Jeannine is passionate about fundraising for research! In addition to finding mentors in her community to teach her best fundraising practices, she has enrolled in several courses on non-profit management and communication through the UCLA extension. Her aim is to learn more about effective fundraising and non-profit development.
Jeannine was recently invited to be a member of the FPWR's Board of Directors. Despite knowing her workload is about to dramatically increase, she is thrilled to join the board and looks forward to helping the organization grow. FPWR's interim Executive Director, Susan Hedstrom says, "Jeannine is an invaluable resource to our organization. She has initiative, determination and passion: qualities which will ultimately drive her to success. We are lucky to have her part of our organization."